A picture on Yesterday's Daily Mirror front page where a police officer was saluting the controversial UPFA parliamentarian Duminda Silva at his residence and the picture's table head 'Can you Believe it' raised grave questions with regard to public confidence in the independence of the police force and the judiciary.
For more than 19 months since October 2011 since the Presidential Trade Union advisor Bharatha Lakshman Premachandra was killed during an election day brawl with several people, allegedly including Mr. Silva, we have heard conflicting and contradictory stories about what happened and who did what.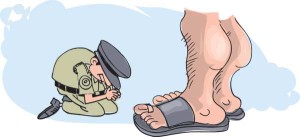 Of course Mr. Premachandra was killed, but one of the biggest political mysteries if not disgraceful episodes in Sri Lanka was, about the role of MP in the incident. Media reports and government leaders claimed Mr. Silva suffered serious brain injuries during the Kolonnawa shoot out and was treated at a top Singapore hospital for more than 17 months. He was given leave by Parliament and when the case came up at different courts, lawyers for Mr. Silva submitted certificates from medical specialists claiming he had suffered serious brain injuries and was not fit to be present at the Court.
Amidst confusing and conflicting reports, Mr. Silva suddenly returned to Sri Lanka in February this year was taken on a wheel chair to the airport gate and from there in an ambulance to the Nawaloka hospital. When a bail application came up in courts, lawyers for Mr. Silva claimed he was still suffering from serious brain injuries and could not come to courts. They sought bail for him but the courts refused and prison guards were placed outside the hospital ward. This meant Mr. Silva was in remand custody with his lawyers and others saying he could not even speak.
After the recent mass transfer of District judges and Magistrates by the judicial Services Commission headed by Chief Justice 44 Mohan Peiris—transfers which the Bar Association of Sri Lanka has claimed were largely on personal or political ground—Mr. Silva was given bail last Wendesday. Court officials went to hospital for Mr. Silva to sign his bail application. On Saturday Mr. Silva left hospital not on a wheel chair or an ambulance but walking like a fully fit man. He was welcomed by a huge crowd who had been brought to the hospital area in buses. Buns and packets of milk were given to the people, in addition to fireworks and all that.
A private radio channel sent an sms claiming Mr. Silva had recovered miraculously. Mr. Silva later went to meet President Rajapaksa – their first meeting since October 2011.
With the abolition of the 17th Amendment some years ago, the Independent Police Commission was also scrapped and the Police Department has been politicised to a large extent with rampant corruption, creating a crisis where few people except ruling party politicians, have confidence in the police to act fairly and justly.
Now the Rajapaksa regime is also trying to slowly kill the independence of the judiciary in a manner that will lead to a breakdown in the rule of law, with anarchy raising its horrible head.
If people are losing confidence in the police and also in the Courts' process, we are in danger of becoming not the miracle of Asia, but the muddle and political mud hole.