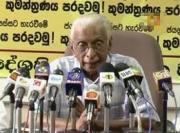 President of the Patriotic National Movement Dr Gunadasa Amarasekera yesterday said that the statement made by TNA leader R. Sampanthan at the annual ITAK Convention in Urani was a violation of the constitution and warrants his expulsion from parliament.

The PNM leader said that the comments made by Sampanthan were very serious and President should not keep silent.
"They are demanding something beyond the 13th amendment," he said.
Addressing a news conference in Colombo Dr Amarasekera said that the international community which includes the US and EU were behind the move and were helping the Tamil diaspora to achieve their dream of Ealam with the blessings of India.
Sampanthan had openly said that they would not give up the demand for ealam and if they were not given full autonomy, they would not hesitate to obtain it.
"After hoisting the national flag with Ranil in Jaffna, he recognises the barbaric war fought by the LTTE as a freedom struggle," the PNM leader said.
He condemned the Tamil National Alliance as a casteism based party and said that TNA which consisted only of "Vellala" parliamentarians (so called high caste) were suppressing the poor masses of the North and the East and the TNA's dream of a separate state was not to serve the down trodden masses but to serve the interests of a few.
Dr Amarasekera said that ruling party politicians in the calibre of Dr Rajitha Senaratne has said that "We can give a little of their demands and appease them", but the TNA would not agree to what Rajitha and the likes say and such loose rhetoric would only help the separatists.
Responding to a query whether the PNM advocated the appointment of a Parliamentary Select Committee to find a solution to the issue, Dr Amarasekera said that that his movement had no faith in such committees unless "you want to drag on with the matter."
Another mistake the government made was the launching of the LLRC report and it contained all that the international community wanted to fix on the government, he said.
By Harischandra Gunaratna
IS