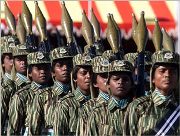 Female Tiger fighters ( file photo)
The Tamil National Alliance (TNA) has put forward demands which the LTTE failed to achieve militarily. They are also stressing on pre-conditions to attend the Parliamentary Select Committee (PSC) proceedings to find a political solution to the national question, Senior Minister and former All Party Representatives Committee chairman Prof Tissa Vitarana said.

He said TNA leader R Sampanthan had wanted what the LTTE had submitted as their proposals for an Interim Self-Governing Authority in the North and East in November 2003.
Sampanthan had demanded from the government that fisheries, agriculture, all sea ports, mineral resources , media, motor vehicle taxes, judicial and police powers in the North and East to be placed under the TNA, Prof Vitarana said.
The demands include the control of the subjects of health and indigenous medicine, education, vocational training, irrigation activities, co-operatives establishments, forest resources provincial authorities, livestock development, highways, forest resources, power generation, housing construction, urban development, tourism industry, cultural activities, rehabilitation, state lands, sports, charity organisations, lottery taxes, foreign investment, financial institutions,and judicial taxes among a wide variety of other taxes.
Prof Vitarana said the TNA should desist from this approach and participate in the deliberations of the PSC in a spirit of goodwill and cooperation to reach a workable political solution to the ethnic issue.
Asked if it was possible for the government to meet their pre-conditions for PSC proceedings, Prof Vitarana said: " My view is that neither the government nor the TNA should have any pre-conditions to participate in the committee proceedings."
"All parties should take part in the deliberations free of conditions," he said.
Prof Vitarana said the PSC has been mandated to conclude its deliberations within six months and the list of names of its participants have to be presented this month.
"The TNA has not yet declared their participation. This can have a negative impact. They must look at the wider national interest," he said.
"Earlier, the TNA was talking about a merger of the Northern and Eastern Provinces. These matters could be discussed at the PSC," he said.
Chamikara WEERASINGHE
CDN