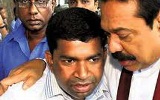 Police investigations have revealed that a group of members of Thamil Makkal Vidudal Puligal (TMVP) or TamilPeoples Liberation Tigers of the Chief Minister for the Eastern Provincial Council Sivanesathurai Chandrakanthan aka Pilleyan is responsible for the heist at People's Bank at Pudur.

An armed group that broke into the People's Bank branch at Puddur in Batticaloa on 6th June got away with more than Rs.160 million and a large amount of gold jewellery that had been pawned at the bank. This is considered the biggest bank robbery that has been carried out in this country for the last ten years.
The investigations carried out jointly by the CID and the Police have revealed that five people had been involved in the robbery. The investigators have been able to find the van the robbers had used for the heist. The Police say perpetrators could be arrested soon on the information they have at present.
Pilleyan's TMVP has been accused of number of heists, abductions and taking of ransom.