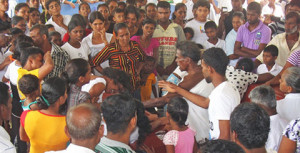 Funeral of two fishermen killed
Attempted assault on Ranil, attack on UNP councillors under investigation Two separate investigations are under way over the attempted assault on Opposition Leader Ranil Wickremesinghe and the attack on two UNP local council members this week as they prepared to visit families whose members had been killed by last Saturday's storm.

Investigations into the attempted assault on the Opposition leader on Tuesday in Balapitiya town is being carried out by the SP for Galle division, U.S. Bandaranayake, a senior Police officer said.
Police and Mr Wickremesinghe's security guards on Tuesday prevented a pro-government mob setting upon the Opposition leader as he toured the Balapitiya area, visiting families whose members had been killed in Saturday's storm at sea.
Mr. Wickremesinghe who visited some of the families, had been advised to avoid certain areas of Balapitiya, as a UPFA MP had warned that the Opposition leader will not be allowed to visit the area. Following the advice from his security, the Opposition leader was heading towards the Ahungalla area where the UNP had organised a seminar.
"As we were heading to the seminar, a bus blocked our path. Two persons got off the bus, rushed towards my vehicle and opened the door. But my security and the local police prevented them from doing any harm," Mr Wickremesinghe told the Sunday Times.
UNP General Secretary Tissa Attanayake who was in the same vehicle, told the Sunday Times that, he had telephoned Inspector General of Police N.K. Illangakoon and complained about the incident.
He said stones had been pelted at the Opposition leader's vehicle and damage caused. The attempted assault of the Opposition leader came hours after UPFA MP Sajin Vas Gunawardena warned Opposition members against visiting affected fisher families.
"What I'm telling the UNP and Ranil Wickremesinghe is, at this tragic moment, there is no need to do politics. There is enough time to do politics. So, all I say is not to engage in politics over the deaths in the Balapitiya area. If they do, I will first beat them and then chase them away," he said while attending the funeral houses of the dead fishermen.
MP Wijeyadasa Rajapakshe who was with Mr Wickremesinghe at the time of the incident, said that, they had already visited several affected families on that day in the Moratuwa and Beruwala areas, before they visited Balapitiya, where at least 32 fishermen had died.
He said that, if the Government fails to carry out a proper inquiry into the incident, they will take up the matter with the UN Human Rights Commission in Geneva, and member countries of the Commonwealth.
"The Government should take the responsibility for these incidents", he said. In a separate incident, two UNP local council members were assaulted by a mob in Balapitiya, when they visited the funeral house of a fisherman.
The Ambalangoda police are conducting an investigation into the incident.