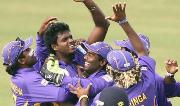 The television rights of the Sri Lankan cricket team's matches for the territory of Sri Lanka have been offered to sports channel Carlton Sports Network (CSN) for three years from 2012 to 2015, Sri Lanka Cricket President Upali Dharmadasa said yesterday.

CSN had been the only bidder for the local TV rights in response to advertisements SLC published in January in local newspapers and also on their website, so the SLC Sponsorship committee which met yesterday decided to grant it to CSN, Dharmadasa added.
Earlier last month, the SLC Executive Committee also approved CSN's bid of Rs. 125 million for the three years.
This comes as a stupendous achievement for a company which is just 15 months old having been incorporated on February 10 last year.
State Television Sri Lanka Rupavahini who had almost enjoyed a monopoly on local TV rights ever since Sri Lanka gained Test status has been notable absentee in the bidding process.
Rupavahini Chairman Mohan Samaranayake admitted they did not make a bid but said that they are still interested in winning the rights.
"I have given my instructions regarding this matter to the officers concerned to write to them. I think our Marketing Manager has written to Sri Lanka Cricket, But I am sorry, at the moment I don't know what the reply was from SLC. Probably I can tell that by tomorrow morning," said Samaranayake who explained that they are also interested in the rights.
Rupavahini made a whopping Rs 556 million revenue during last year's cricket world cup having spent only Rs. 143 million to win the rights, and failure to secure SLC's local cricket rights is likely to come as a deadly blow to the loss-making TV giant owned by the government.
The fact that SLC Secretary Nishantha Ranatunga is also the Chief Executive of CSN created a controversy in recent times and the conflict of interest issue also received attention from the Sri Lanka Parliament's Committee On Public Enterprises (COPE) which investigated Sri Lanka Cricket last year.
"The dissatisfaction of the Committee was expressed on offering the tender to an organization in which the Secretary of the Cricket Board was functioning as the CEO," stated the COPE report tabled in parliament on December 1 last year.
Last year, the government passed a law that all local television and radio broadcast rights for cricket matches will only be awarded to state media or dedicated sports channels.
CSN interestingly was the only dedicated sports media channel at the time the law was passed in July last year.
CSN first won the local TV rights for Australia's tour of Sri Lanka in June last year.