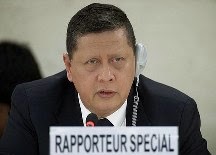 Marzuki Darusman
Matthew Russell Lee
UNITED NATIONS, April 17 -Arguing for a referral to the International Criminal Court of North Korea on April 17 was Marzuki Darusman, who previously chaired a three member panel at the UN about war crimes in Sri Lanka.
On that report, which the UN released only in redacted form, little was done in the first instance. After inaction by the Rajapaksa government, a vote was held on March 27 at the UN Human Rights Council in Geneva calling for another investigation – one that the Rajapaksa government says it will not cooperate with, may prosecute witnesses to.
Inner City Press asked Darusman if he felt his report on Sri Lanka, before this North Korea report he did on a panel with Australia's Michael Kirby, was successful. Darusman responded that in Cambodia, justice took a long time, but that each step moved things along.
By contrast to this week's Arria formula meetings of members of the Security Council on Syria and North Korea with full evidentiary presentations of photographs and witnesses, the Security Council did very little on Sri Lanka.
Ironically, while Michael Kirby's Australia was one of the three requesters of the April 17 Arria formula meeting on Norht Korea, it has a quite different position on Sri Lanka, even giving boats to the Rajapaksa government. Does Australia respect Darusman's views? Has the Australia government asked Darusman about Sri Lanka?
By contrast, the Security Council held a fomal public meeting this week on human rights in… Ukraine. Navi Pillay's deputy and prospective replacement Ivan Simonovic recounted deaths in the three digits. One delegate exiting the North Korea Arria on April 17 made the contrast, and referred to the story of the child who complained too much, like the boy who cried wolf.
So Ukraine human rights is a topic for a formal meeting of the Security Council, but Sri Lanka wasn't and won't be? Watch this site.