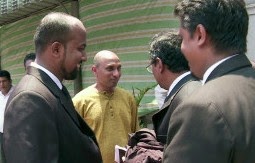 Ruki Fernando with his lawyers
(BBC sandesha photo)
Human Rights Organizations or Activists are NOT above the LAW
The arrests and detention of Mr. Ruki Fernando and Father Praveen has generated wide coverage demanding their immediate release on the premise that they were human rights activists. What needs to be clearly established is that Sri Lanka is a democratic country, there are laws that govern the country and laws that are applicable to all those living in Sri Lanka. Anyone living in Sri Lanka, whether they are citizen or non-citizen are subject to the laws of the land. If anyone has breached the laws of the country it is considered a criminal offence against the State of Sri Lanka.
The State is bound by duty to enforce the laws of the land. In enforcing these laws, if a person has violated the law the law enforcement authorities have every right to arrest and carry out investigations. No one has the right to carry out campaigns to demand their release simply by referring to them as 'human rights activists'. If evidence is found linking them to any criminal activity the authorities have every right to take action under the legal provisions available.
Those demanding the release may like to take note that Sri Lanka is recovering from terrorist activity that lasted 30 years. Throughout the 30 years of terror the LTTE were aided and abetted by civilians and civil organizations. Sufficient evidence is available to link organizations and their employees with transporting arms, ammunition and disbursing funds and assisting with propaganda material. Human Rights Organizations have also been linked and members of these organizations have been previously arrested and investigated. Therefore, arresting and investigating people is the right of the State and its law enforcement and global smear campaigns to demand the release cannot overrule this fact.
What Human Rights Organizations and their staff need to realize is that they are not above the law and cannot demand to be treated above the law. When they make such demands it is making a mockery of the rule of law, due process that they are supposed to be fighting to protect.
Issued on 20th March 2014