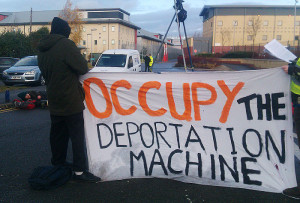 Anti Deportation protest in London by Tamils
More shocking evidence of torture in Sri Lanka has been published today by Freedom from Torture, highlighting the risk faced by Tamils returning to the country from the UK.
The latest research relates to 24 people
who were tortured in Sri Lanka after returning voluntarily from the UK since the end of the civil war in May 2009.
In the vast majority of cases, individuals were in the UK on student visas and returned to Sri Lanka – mid-studies and with the intention of a short visit – for family reasons. After arriving back in Sri Lanka they were targeted for detention and torture due to a real or perceived association with the Liberation Tigers of Tamil Eelam (LTTE) and, in many cases, their alleged support for the LTTE whilst in the UK or even just their knowledge of LTTE activity in the UK.
The returnees were subjected to a range of torture methods including deliberate burns with cigarettes and heated metal instruments, beating with PVC plastic pipes or whipping with cables and partial asphyxiation using water or plastic bags containing petrol. Such ill-treatment has inevitably resulted in long-lasting physical and psychological injuries.
Keith Best, Freedom from Torture CEO, said:
All of the Tamils in this report returned to Sri Lanka voluntarily for what, in most cases, they thought would be a short visit. They certainly didn't envisage being detained and tortured as the price for visiting their loved ones.
"The research shows that the Sri Lankan authorities will stop at nothing to extract intelligence about the activities of the Tamil community in the UK. Even those who go back by choice may face torture if the authorities think they've got any links at all with or knowledge about the LTTE either in Sri Lanka or the UK."
Amidst reports that the UK government is planning a mass removal of refused Tamil asylum seekers to Sri Lanka next week – on as many as three chartered flights – Freedom from Torture has again called for a suspension of forcible returns to the country until the UK Border Agency's removal policy for the country is updated to reflect the mounting evidence that Tamils, who have an actual or perceived association with the LTTE, are at risk of torture on return from the UK.
Keith Best added:
Forcing Tamils back on high profile charter flights in these circumstances is a highly risky affair. Of course the Sri Lankan government is alerted in advance of their arrival and will suspect that they've accused it of persecution, which arguably makes them even more vulnerable than those going back under the radar and of their own volition."