(From @kumanan)
Mullaitivu District Judge T. Saravanaraja has resigned from his posts and left the country due to life threats, pressures, and harassment.
He has faced since delivering the order on Kurunthoormalai issue.
The Department of Archaeology has been trying to build in violation of the court order a Buddhist Temple in Kurunthoormalai.
T
he order concerned declared that the Director of the Department of Archaeology had repeatedly violated three court orders previously issued and tried to build a Buddhist vihara illegally.
Since delivering the said order, honourable judge T. Saravanaraja has been subjected to constant harassment and threats. Here is what he told the media about this:
"Constant pressure was applied by the government to reverse the orders I had issued in the Kurunthoornalai case.
"Members of Parliament such as Sarath Weerasekara   and others belonging to the majority community have issued threats against my life, both in Parliament as well as outside it. The police protection afforded to me (the judge) was recently reduced, whilst the intelligence officers continued to surveillance me.
"The Attorney General invited me (Judge) to meet him in his office on 21.09.2023 and during the meeting he compelled me to reverse the orders that I had issued in the Kurundurmalai case.
"Moreover, two cases have been filed against me personally in the Court of Appeal in connection with the Kurunthoormalai case.
"I have had to resign from all my much beloved judicial posts due to life threats, pressures, and harassments that I have been subjected to since delivering the order. The abovementioned are just a handful of examples of the threats, pressures and harassment I received."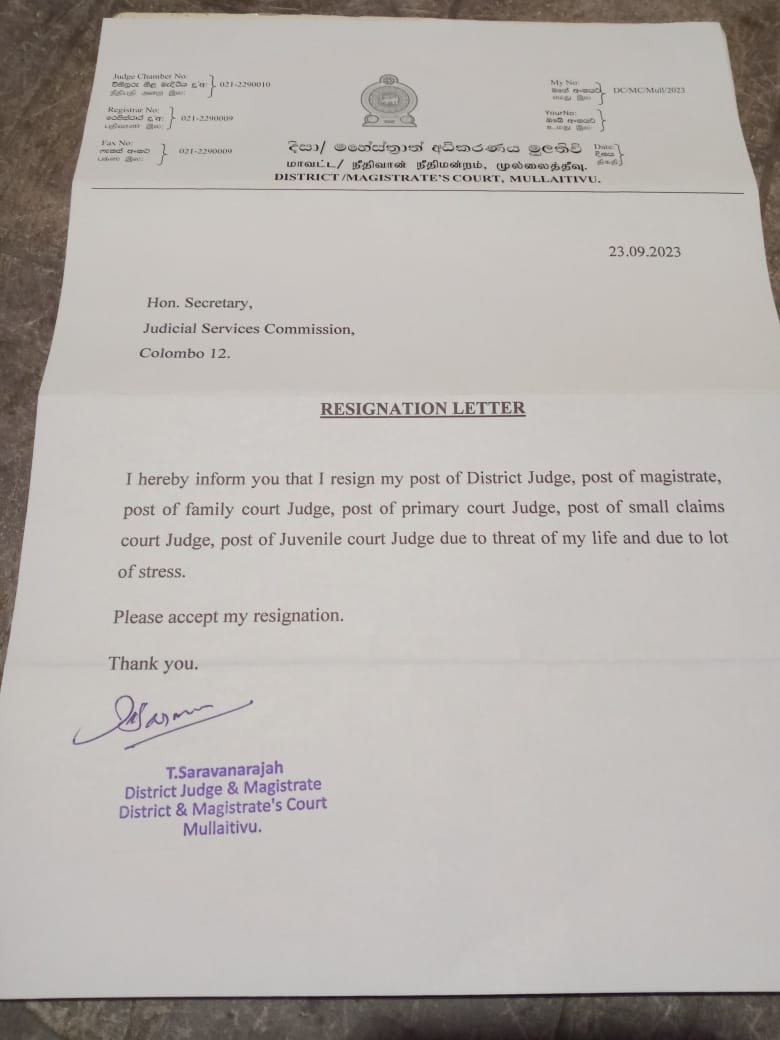 He said that he had sent the resignation letter to the Secretary of the Judicial Services Commission through registered post on 23-09-2023. This incident demonstrates the state of the rule of law on the island. If a Tamil Judge is subjected to such threats, one can only imagine the conditions under which the Tamil people are suffering, let alone Tamil activists. 
The attempts by Sarath Weerasekara MP to obstruct the field investigation by the Mullaitivu Magistrate of Kurunthoormalai illegal construction on 07th of July 2023 .