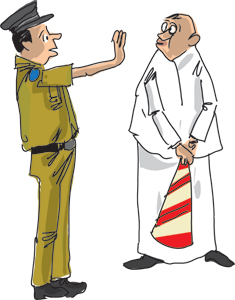 Two parliamentarians, who had tried to show their high-handedness on the Katunayake Expressway, were forced to withdraw following interventions by the security forces personnel.
The parliamentarians who entered the expressway violating the restrictions were from the Western and North Western provinces, sources said.
One MP had removed road barriers and entered the expressway, but after the police were alerted the moving vehicle was brought to a halt and sent back.
The other MP had entered his vehicle to the expressway insulting security officers and not heeding their orders. However his vehicle was also taken out of the expressway after security forces personnel intervened.
The Transport Ministry said this kind of irresponsible acts resulted in hampering the progress of work on the expressway which it hoped to complete swiftly. The ministry said nobody was permitted to use the expressway which is due to be declared open next month.