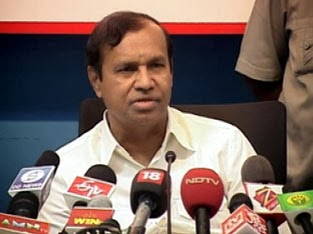 Press Trust of India DMK today urged the Centre to move a separate resolution against Sri Lanka in a UN body, seeking an independent and credible probe for war crimes in that nation, saying it was only 'logical' that New Delhi adopt such a stand.
DMK MPs led by its Parliamentary Party Leader T R Baalu submitted a memorandum to Prime Minister Manmohan Singh in New Delhi in this regard, asking him to "support and facilitate a UN-led independent and international investigation into the war crimes committed during the 2008-09 war in Sri Lanka."

Having voted for a credible investigation in Sri Lanka at the last two meetings in UN Human Rights Council in 2012 and 2013, "it is only logical for the Indian government to look at escalating this action and looking for a solution away from domestic options," it said.
"We strongly urge you to show solidarity with the oppressed Tamil people of Sri Lanka and work with the international community to push for an international investigation into war crimes in Sri Lanka," the MPs appealed.
The memorandum, released by Baalu's office, said previous domestic mechanisms set up by Sri Lanka "have failed" and that there "was no political will" to implement a credible domestic truth-telling or accountability process.
Colombo had not even accepted the recommendations made by Lessons Learnt and Reconciliation Commission (LLRC), 'which itself was criticised for being too weak,' it added.
While UN estimates put the civilian casualty at around 40,000, there were serious violations during the war which amounted to 'war crimes' it said, quoting rights group Amnesty International.
Sri Lanka's elected Northern council had also passed a resolution seeking international investigation into alleged war crimes from 2008-09, it said, adding "India needs to understand the situation and circumstances that prompted elected representatives from the war ravaged north to look for options outside their own country."
In its separate resolution at the UNHRC meeting on Mar 3, 2014, India should seek "an independent and credible international mechanism under the UN to investigate war crimes committed by Sri Lankan armed forces during the period from September 2008 to May 2009."
"The UN should also set up a mechanism to monitor the continuing human rights violations in Sri Lanka especially the crackdown on activists and journalists seeking accountability from the state," it said.
BW