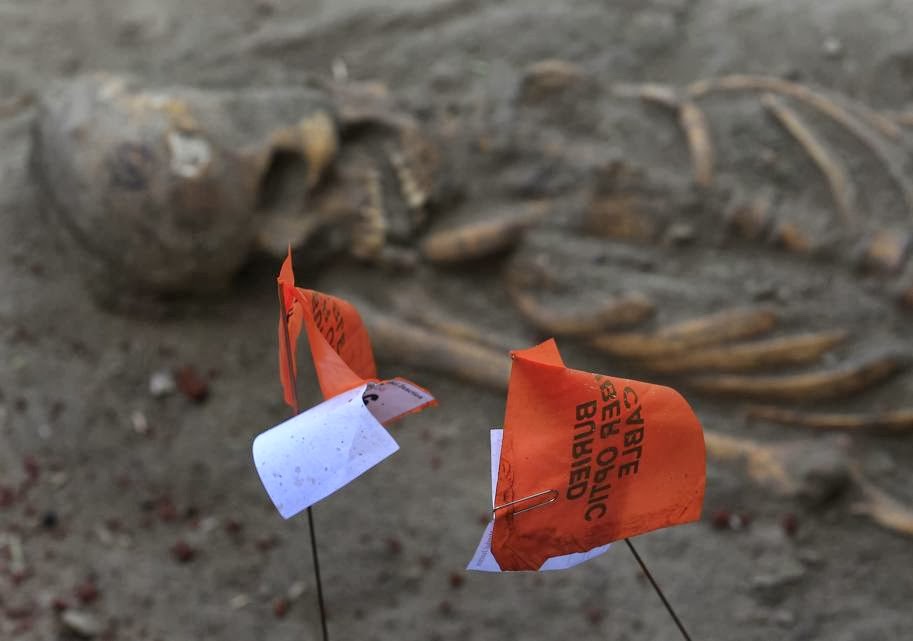 80 skeletons; No investigation
Forensic experts have found more bodies in an unmarked mass grave in Sri Lanka's northern former war zone, taking the total number to 80, an official said on Tuesday. Judicial medical officer Dhananjaya Waidyaratne said excavations resumed on Monday after a short break at the grave site discovered by construction workers in December. The grave is the first uncovered in the former war zone since troops defeated Tamil rebels nearly five years ago following a decades-long conflict for a separate homeland for ethnic minority Tamils.
"We found more yesterday and the figure now stands at 80," Mr Waidyaratne told reporters, up from a previously released figure of 36. "We have submitted the evidence to (the) courts," he added.
He said further tests were needed to establish how and when the people died but officials have previously said that women and children were among those buried.
The government sought to head off concerns that Sri Lankan soldiers could have been involved in the grave, saying the Mannar area had long been a Tamil rebel stronghold.
"It has been revealed that the area had been occupied by the LTTE (Liberation Tigers of Tamil Eelam) for 30 years," till security forces wrested control over the area in 2008, the government said.
"The matter is under investigation," the government said in a statement to the United Nations Human Rights Council (UNHRC) in Geneva last week and released to reporters in Colombo on Tuesday.
It added that Indian troops deployed on an abortive peace-keeping mission in Sri Lanka between 1987 and 1990 also briefly had control over the coastal Mannar region.
Police have not yet been able to identify the remains. But the Roman Catholic Bishop of Mannar, Rayappu Joseph, said last month that the victims could be members of the local Tamil community.
Mannar has a large concentration of Tamils, and was the scene of many battles between troops and Tamil rebels during the island's 37-year-old separatist war which ended in May 2009.
The UN estimates the war claimed at least 100,000 lives.
Last year, construction workers stumbled on another mass grave in central Sri Lanka, hundreds of kilometres (miles) from the conflict zone.
At least 154 people were found in that grave in Matale district, the scene of an anti-government uprising between 1987 and 1990 unrelated to the Tamil separatist conflict.
Remains from that grave have been sent to China for further tests.
AFP