(Missing Person Commission recording complaints in Jaffna)
The Presidential Commission Investigating Cases of Missing Persons in Sri Lanka began its public sittings to hear cases of missing in Jaffna District Friday (11).
Secretary of the Commission HW Gunadasa said the Commission has received 100 new complaints during the first two days of sessions in Jaffna today. The Secretary said it has received 1,620 complaints including new complaints to hear during this sitting.
This is the second public sitting held in Jaffna to call for evidence regarding missing persons in the district. The Commission held sessions in Nallur on Friday and Jaffna on Saturday. It will continue hearing cases tomorrow in Vadamarachchi South West (Karaveddy) and Vadamarachchi East (Maruthankerny.
On Monday, the Commission will have sittings in Vadamarachchi North (Point Pedro) and in the Valikamam Southwest (Sandilipay) and Valikamam West (Chankanai) on Tuesday, the 5th day of sittings.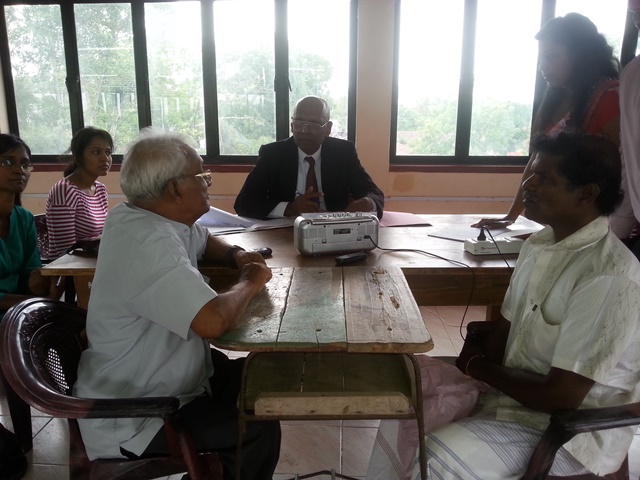 On the last day, 16th of December, the Commission will hear cases in Valikamam South (Uduvil) and Valikamam North (Tellipalai).
Since the Establishment of the Commission on 15th August 2013, up to date it has received in excess of 23,099 complaints inclusive of approximately 5000 complaints from relatives of missing security forces personnel.
The recorded evidences of these complainants are being analyzed for further investigations through an independent Investigative Team.
The Commission will continue its Public Sittings in various parts of the North and East of Sri Lanka.
FT