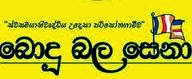 Minister-Rishad-BadurdeenMinister of Industry and Commerce Rishad Bathiudeen has filed a lawsuit against the Bodu Bala Sena (BBS) claiming Rs 500 Mn (US $ 3.82 Mn) as compensation. The case has been filed in Colombo District courts by lawyers representing Minister Bathiudeen.
The case was filed against the secretary of the BBS, the venerable Galagodaathe Gnanasara after the monk had failed to respond to a letter seeking an apology over some comments he had made against the Minister.
"The action was filed at the Colombo District Court against the malicious, false and defamatory remarks that were made by Ven. Galagodaathe Gnanasara thero at a press conference held in Colombo on or around March 20th 2014," the Minister's office said.
During the Press Conference the monk had said that Minister Bathiudeen is responsible for the destruction of the Wilpattu National Park, has created an exclusive Muslim Zone from Wilpattu to Mannar, is attempting to create an 'Arab colony' in Sri Lanka in the Mannar-Wilpattu area and was a person who attacks courts and obstructs the course of justice.
Minister Bathiudeen's office said that the Minister has repeatedly and categorically denied each and every assertion made by venerable Galagodaathe Gnanasara at all forums in order to make the public aware of the true and factual details of the said construction of the housing scheme. (
Colombo Gazette
)