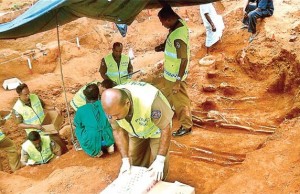 Nearly 200 skeletons unearthed: clear sings of torture ( Photo- Ceylon Today)
The skeletal remains found in the mass grave at the Matale Hospital premises do not belong to people who had died due to natural causes, as their arms and legs appear to have been severed and the bodies buried in a haphazard manner, a senior police official said.
According to a Judicial Medical Officer (JMO), who was part of the excavation team at the site, the grave shows signs of mass killings, but it is yet to be determined the time period the killings had taken place. He also said the remains may need to be sent to the US for further analysis. However, archaeological investigations have revealed the skeletal remains are not older than 100 years.
Politburo member of the Janatha Vimukthi Peramuna (JVP), Anura Kumara Dissanayake, claimed recently the remains in the mass grave belong to the youth killed during the 88-89 insurrection.
By Gihan Kamalesh Weerasinghe
Courtesy – Ceylon Today
Related posts:
SRI LANKA BRIEF: UNP too calls for probe on Matale mass grave