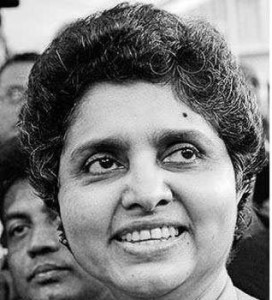 Sri Lanka's Chief Justice Shirani Bandaranayake in Colombo recently.— PHOTO: AFP
The stage is set in Sri Lanka for a showdown between the legislature and the executive on one side, and the judiciary on the other,with the Court of Appeal, in a landmark decision, holding that it had the jurisdiction to hear a case against the findings of a Parliamentary Select Committee (PSC). In effect, it ordered a stop to the parliamentary impeachment proceedings against Chief Justice Dr. Shirani Bandaranayake.
The PSC had found the Chief Justice guilty of misconduct and had submitted its findings to Speaker Chamal Rajapaksa, a brother of President Mahinda Rajapaksa. The Appeal Court has sent notices to the Speaker and PSC members.
Buoyed by the support she received from opposition groups and civil society, Dr. Bandaranayake had challenged the findings of the PSC in the Court of Appeal on Wednesday. The law firm that represents her, Neelakandan and Neelakandan, claimed that the PSC did not give her a fair hearing "in accordance with the principles of natural justice and the law of the land". But the crux of the petition is: It challenges the very constitution of the PSC and argues that it, appointed to inquire into the charges against the Chief Justice, was inconsistent with the Sri Lankan Constitution.
Even as the legal battles are on, lawyers and various other groups of people have demanded that President Mahinda Rajapaksa nullify the impeachment proceedings. Mr. Rajapaksa, on December 11, said that the PSC report on the impeachment against the Chief Justice will be evaluated through an independent committee.
At the December 15 meeting, the Bar Association of Sri Lanka (BASL), passed a resolution which said that the Bar would refrain from officially welcoming any new Chief Justice appointed on the basis of a vacancy created by "wrongful impeachment".
Making the government's displeasure with the Bench and the Bar clear, the government announced a withdrawal of sponsorship for an annual programme of the Judicial Service Association slated for Friday. Dr. Bandaranayake, first inducted into the Supreme Court with no experience in the Bench or the Bar, was handpicked by President Mahinda Rajapaksa to head the Apex Court.
It appears she fell out over a piece of legislation that gave control to Ministry of Economic Development, run by the President's brother, Basil Rajapaksa. But the President has been steadfast in his assertion that the massive corruption of the Chief Justice and her husband was the reason for the PSC to take recourse to impeachment.