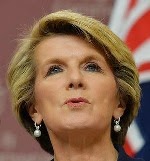 Julie Bishop (AP)
Tom Allard
The Abbott government is resisting a push by its closest allies to establish a United Nations investigation into war crimes and human rights abuses in Sri Lanka, where Australia has returned more than 1100 failed asylum seekers in the past 18 months. A draft UN resolution, obtained by Fairfax Media, calls on the UN Office of the High Commissioner for Human Rights to conduct the inquiry into "alleged serious violations and abuses of human rights" in Sri Lanka that leaves open the possibility it could lead to prosecutions, including for members of the current government.
Foreign Minister Julie Bishop confirmed Australia had not co-sponsored the resolution and wanted a motion to reflect "progress" in "reconstruction and rehabilitation" in Sri Lanka.
Australia has previously co-sponsored resolutions at the UN's Human Rights Council expressing concern on Sri Lanka's record but is understood to have exasperated the US, Canada, Britain and the Europe Union by not yet backing this one, which for the first time calls for an independent and comprehensive inquiry into the allegations.
The end of Sri Lanka's civil war in 2009 was brutal as the rebel Tamil Tigers were crushed by the Sinhalese majority government led by President Mahinda Rajapaksa, who remains the country's leader.
Sri Lanka's victorious security forces are accused of corralling civilians into no-fire zones and then launching artillery, assassinating surrendering rivals, and the rape and torture of civilians.
The Tamil Tigers are also accused of war crimes.
The UN inquiry, to be voted on next week, would investigate alleged atrocities by both sides.
Ms Bishop said the government wanted to see a final text of the resolution before deciding whether it would co-sponsor the resolution.
"Sri Lanka has made progress since the end of the violent civil war in 2009, including on reconstruction and rehabilitation and we expect this to be reflected in any final text," she wrote in an email. "We encourage all parties to take a constructive approach to assist the process of reconciliation in Sri Lanka."
Any inquiry could place Australia's policy of returning Sri Lankan asylum seekers in jeopardy. Returning asylum seekers to a country where there remains a genuine fear of persecution is illegal under international law.
Under a policy begun under the Rudd government, Sri Lankan asylum seekers are put through a stricter process to prove they are refugees, denying them access to legal advice and the right of appeal.
More than 1100 Sri Lankan asylum seekers have been returned, many forcibly, since October 2012 and that country's government boasts it has stopped 4500 more leaving its shores, in part due to intelligence, materiel and financial support from Australia.
"Australia's approach looks like capitulation to the wishes of the authoritarian Sri Lankan regime," Human Rights Law Centre advocacy director Emily Howie said.