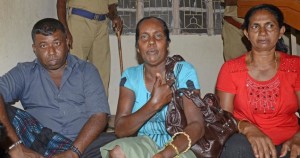 Sri Lankan pilgrims inside Tiruchi airport amidst tight police security on Tuesday. Photo: M.Srinath
Sri Lankan pilgrims inside Tiruchi airport amidst tight police security on Tuesday. Photo: M.Srinath
Lankan pilgrims sustain minor injuries after miscreants attack buses
For Joseph from Chilaw in Puttalam district in North-West Sri Lanka, the yearly pilgrimage to India has always been a thanksgiving mission after being cured of sores that covered his body. It turned nightmarish this year.
Not only was the pilgrimage of 178 Sri Lankan nationals, including Joseph, who visited the basilicas of Velankanni and Poondi curtailed, but the last leg of the journey also saw them return home with bruises after buses transporting them to the Tiruchi airport were attacked on Tuesday.
They were scheduled to take a special plane out of India on Tuesday night following threats from some Tamil outfits. Already disheartened at making an exit much before the Velankanni feast on September 8, the pilgrims were terrified after a group of 10 men smashed the windshield and window panes of three of the six buses in their convoy at Kattur on the outskirts of Tiruchi. They were on their way back from Thanjavur.
According to passengers who spoke to The Hindu, all pilgrims are Sri Lankan nationals of Tamil origin. "We speak Tamil and have always considered Tamil Nadu as our motherland. Why should they attack us? It is sad that we have to be afraid in a place we call our motherland," said an emotional Mercy Fernandes, who had come to Velankanni to offer prayers after being cured of cancer.
"When we were warned that there may be trouble on Sunday, we were asked to cut short our journey. Initially, we were told to pray from within the bus which would take us to the two shrines. What is the use of spending so much if we cannot enter the shrine," asked Joseph.
"We did not come here to do business, we came here to seek the blessings of Our Lady of Good Health," said Fatima Mariyam. "What has disappointed us all is that we could not even attend holy Mass. We came with faith, we return with sadness."
Though the police maintained that the pilgrims were unhurt, those who spoke to The Hindu said passengers in the front seats, including two children, sustained minor injuries and were given first aid. "Thanks to our mission and the State police, we at least made it here safely," said Fatima.
Amid tight police and CISF security, the pilgrims were accommodated in the visiting gallery of the airport, which was declared out of bounds to the public. They boarded a special plane operated by Mihin Lanka.
Will they make the pilgrimage next year?
We go back unhappy, but our faith will bring us back. I hope the government will assure us of a safe stay here," said Mercy.