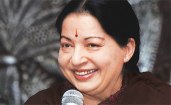 Sri Lankan defence secretary Gotabaya Rajapaksa's remarks on the alleged war crimes rocked the Tamil Nadu assembly on Thursday, with Chief Minister J. Jayalalithaa saying they were highly condemnable.

Hitting back at Rajapaksa after the latter had asked her to mind her own business and not interfere in the internal affairs of Sri Lanka, Jayalalithaa said the Tamil Nadu assembly resolution was not passed for political gains.
"Gotabaya claims that there were no war crimes and the reports are false and misleading. The Tamil Nadu resolution on Lankan Tamils is beyond politics," Jayalalithaa told the assembly.
The Tamil Nadu chief minister also took a dig at the Centre, saying it is a mute spectator. "Indian government being mute spectator has boosted the morale of Sri Lanka," she said, adding, "The Indian government must send an envoy to condemn Gotabaya's insensitive remarks."
She said that Lankan defence secretary's statement is like the Devil quoting from scriptures. She said that her government will not rest till the issue of atrocities on Lankan Tamils has got a permanent solution.
"The Tamil Nadu government will take all measures to ensure that justice is delivered to innocent Sri Lankan Tamils," Jayalalithaa said.
She had earlier demanded the imposition of economic sanctions against Lanka for the alleged war crimes against minority Tamils.
Earlier, moving special call attention motion to discuss Gotabaya's remarks, the opposition parties condemned the Sri Lankan defence secretary for stopping international probe into war crimes against civilians.
The parties that slammed Rajapaksa over war crimes included DMDK, MDMK and CPM.
Rajapaksa's remarks had come after Jaya had called for a probe into Sri Lankan war crimes. Speaking to Headlines Today, Rajapaksa had defended Sri Lankan Army role in war against the LTTE and had claimed no civilians were killed.
MDMK chief Vaiko, while backing Jayalalithaa, said she had expressed the feelings of all the Tamils.
Calling for an international probe into alleged war crimes, Vaiko said, "The Indian government is answerable to the Headlines Today report on the genocide in Sri Lanka."
"Gotabaya's comment on devolution of power has proved that there will be no solution for Tamils. It has now been proved that genocide has been committed. The testimonies of the people have been recorded and now the international agencies can try Sri Lankan government," he added.
India Today