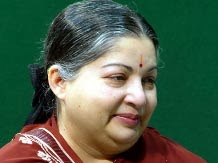 J Jayalalithaa
Demanding that India move a seperate resolution against Sri Lanka in a UN body next month, Tamil Nadu Chief Minister J Jayalalithaa today said Congress-led UPA however would not do that and claimed "scenes will change" after Lok Sabha elections where her AIADMK will have a say in this matter.
Jayalalithaa said there were reports about four countries, (including the US) trying to move a resolution against Sri Lanka in the UN Human Rights Council (UNHRC) for alleged war crimes.

"As far as we are concerned, India itself should move a seperate resolution seeking punishment for those who had committed genocide (against civilian Tamils in the last leg of Eelam War in 2009), seek the support of other countries and adopt it. But the present Congress (led) coalition government will for sure not do that," she told Tamil Nadu assembly.
"Lok Sabha elections are going to come soon. Then the government will change and so will the scenes. AIADMK will be in a position to decide the Centre's policies. Efforts will then be taken to move a resolution against Sri Lanka (by India) at the UNHRC and make it a success," Jayalalithaa, who has aligned with CPI-M and CPI and one who envisages a bigger role for her party post elections, said.
Expressing deep regret over India's participation in the Commonwealth Heads of Government meeting in Colombo in November last despite Tamil Nadu assembly passing two resolutions against it, she said "we strongly condemn" External Affairs Minister Salman Khurshid representing India in the summit, ignoring the "overall sentiments" of Tamils.
BS