Image: Owners of the land waking towards their land after 27 years.
(SLArmy) Responding positively to the concerns of the public, Members of Parliament (MPs) and local politicians in the Jaffna District, the Security Force Headquarters – Jaffna (SFHQ-J) on Monday (3) released one more land patch of 54 acres along the coastal belt in Thaididi Grama Niladari Division, including the Myladi Fisheries Harbour that borders the Palaly Army Cantonment to their legal owners.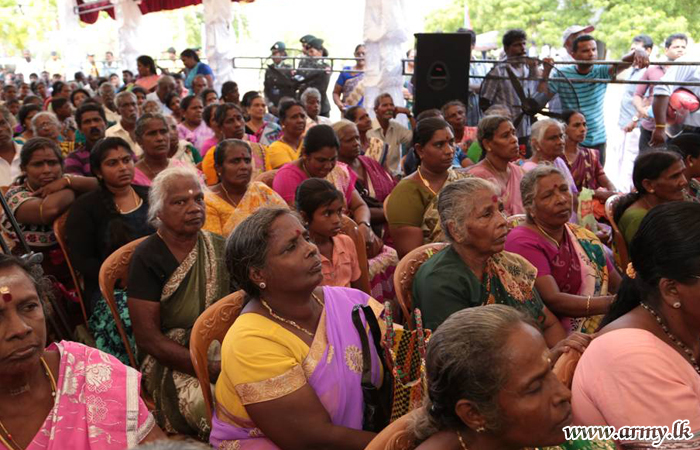 Accordingly, 187 families, who are still residing as Internally Displaced Persons (IDPs), either in relief centres or mostly with their next of kin, are able to return to their original lands and resume their fishing livelihood after absence of nearly 30 years. In a previous move earlier on 7 April 2017 too, the SFHQ-J taking a similar initiative, returned a land area of 35 acres to their owners in Urani, including the Urani Fisheries Harbour area that remained within the Security Forces in Palaly.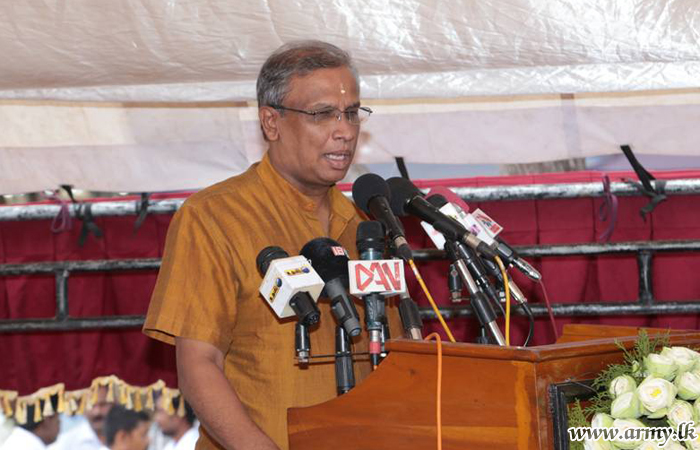 Monday's (3) simple ceremony for release of another land patch of 54 acres, organized jointly by Ministry of National Integration and Reconciliation, Ministry of Prison Reforms, Rehabilitation, Resettlement and Hindu Religious Affairs, District Secretariat for Jaffna and the SFHQ-J, witnessed Major General Darshana Hettiarachchi, Commander, Security Forces – Jaffna officially handing over documents, related to the release of those lands to the District Secretary for Jaffna, Mr Nagalingam Vedanayaham.
With the concurrence of the Commander of the Army, the SFHQ-J, commanded by Major General Darshana Hettiarachchi, giving the utmost priority to the humanitarian concerns of those displaced people and fishermen, took the decision in this regard in consultation with the Ministry of Defence, Tri-service Commanders, relevant Ministries and the District Secretariat for Jaffna, following a few rounds of discussions.
Parliamentarians, District Secretary for Jaffna, Commander, SF-J, state officials, land recipients and members of the public in the area attended the occasion.