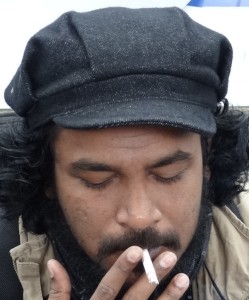 Kishan
Three persons claiming to be from police had stormed the boarding room of editor of yukthiya.com (http://yukthiya.com/) Krishantha Rajapakse and forced him to answer questions, before making a hasty retreat with the arrival of the owner of the place.
The journalist had been drafting a letter at his room around 1.30 pm, when the intruders had arrived near his room and told him that they wanted to search the room.
When he had objected, they had taken out an identity card, but had refused to hand it over to him to have a look at it.
Then they had shown him a letter written in English and with the police logo and the words Anti Terrorism Act only noticeable.
The trio – each dressed in a T-shirt with an orange-coloured collar and black trousers, a shirt with a white-coloured collar and black trousers, and a dark blue T-shirt and a denim – had then gone into the room and ordered Mr. Rajapaksa to sit down in a chair.
They had then ransacked the room and repeatedly asked him whether he had any connections with the Northern Province and with Tamil Nadu.
The journalist had denied having any such connections.
Thereafter, one intruder had taken out a piece of paper from his pocket and asked whether he knew a female named Meena Kandasamy, to which too, he had replied in the negative.
Saying that they wanted to go through his laptop, they had forced and threatened him to type the password into the computer.
In the meantime, the owner of the boarding house had arrived in his vehicle, and the trio had gotten away as he entered the house.
Mr. Rajapakse has complained to police regarding the incident.
SLM