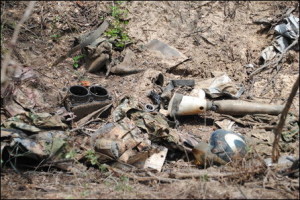 Mu'l'livaaykkaal bunker area.
An official who recently visited the outskirts of Mu'l'livaaykkaal with the soldiers of the Sri Lanka Army told TamilNet this week that he had personally witnessed skeletal remains of hundreds of slain people surfacing along the few kilometers long, L-shaped bunker, running from Vadduvaakal to northwards along the land of the genocidal onslaught. A vast area is still not cleared and is strictly prohibited from access to anyone except SL military officials. "There are booby traps and UXOs. Rotten automatic rifles and RPG ammunitions are lying around in the area. When I walked across a bunker, I was able to sense that it was a bunker of mass slaughter. As the bodies buried underneath have rotten, the soil was going under as we walked across," he said. Meanwhile, some other mass graves show the use of chemicals that have burnt even the bones to become ashes, journalists report.
The kilometers-long bunker, which was the last Forward Defence Line position dug by the Liberation Tigers of Tamil Eelam (LTTE) in May 2009, was one of the major locations where the genocidal SL military slaughtered thousands of severely wounded cadres and civilians in the final days of the onslaught.
A large number of blindfolded youth, who were filtered away from the people as they crossed the Vadduvaakal Bridge, were taken here after stripping off their clothes and blindfolding them. It is believed that they were photographed here, before the massacre in cold-blood, the official said.
The remains, found inside the bunkers, look as sand bags had been placed on them for cover up, the official said.
Only 21 houses, along the main road, in Ve'l'laam-mu'l'livaaykkaal have been allowed for resettlement and these houses are situated along the road. Even here, one could still witness skeletal remains spread throughout the area, he said providing some of the photographs he had managed to take in the outskirts of the genocidal land.
"Despite the SL military bulldozing and removing the traces, there are still hundreds of skeletal remains scattered all around the lands," he said adding that the scale of mass slaughter was beyond imagination.
"I knew it was horrible. But, I could sense the mass scale of the slaughter only when I walked through the mass graves," he said.
Meanwhile, journalists who visited Aananthapuram, adjacent to Mu'l'livaaykkaal, report of seeing mass graves that show evidences for the use of chemicals in burning the dead bodies. Even bones have been burnt to the extent that they become ashes at touch. A kind of chemical sheet was used to cremate the bodies, say journalists who visited the site recently.
Photos managed to be taken inside and at the outskirts of the genocidal land show only a tip of the iceberg: see here TN