[Photo: globalmilitaryreview]
By CPA-
18 September 2014, Colombo, Sri Lanka: Five years since the end of the war, a significant military presence still remains in the Northern Province of Sri Lanka. This despite repeated assurances by the Government of Sri Lanka (GoSL) that the military presence is, and will be phased out in order to pave way for post-war reconciliation efforts. In a context of increased militarization, the Centre for Policy Alternatives (CPA) highlights the numerous statements made by Government officials regarding the varying numbers pertaining to the apparent reduction of forces. The contradictions in the actual situation are highlighted by the statements made by President Rajapaksa, who in January 2014 claimed that there was a presence of 12,000 military personnel in the North with Lalith Weeratunga, Secretary to the President claiming only two days later, the presence of 80,000 military personnel in the North.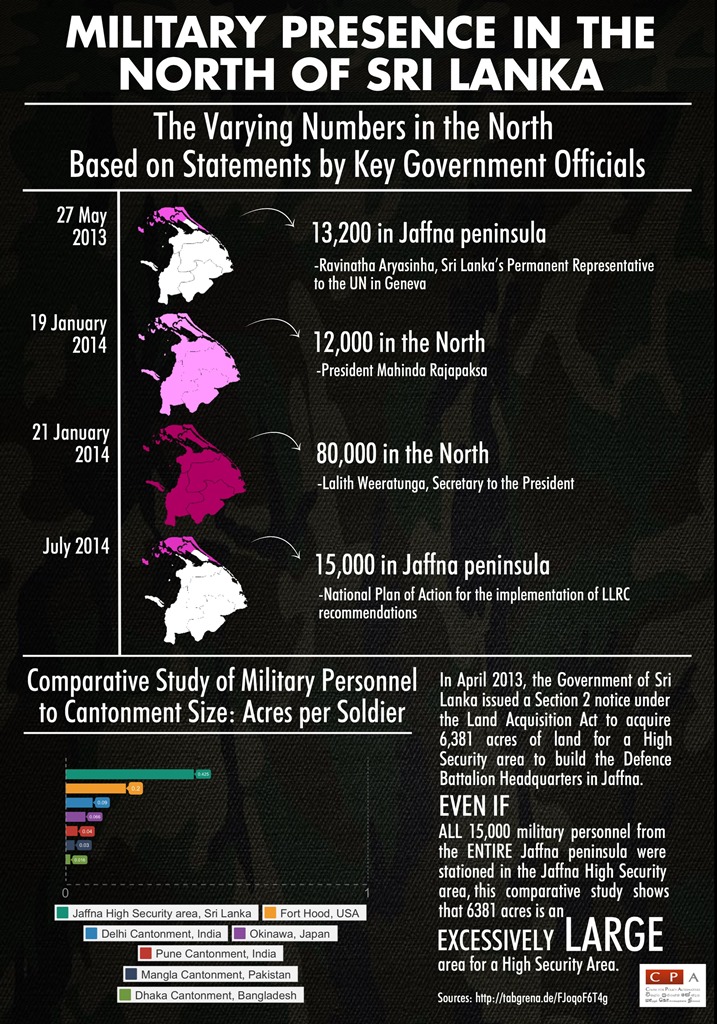 Additionally, the GoSL is in the practice of acquiring swathes of private land in both the Northern and Eastern Provinces, claiming it is for military use. In November 2013, CPA published a policy brief flagging these disturbing trends in land acquisition which amount to land grabs. CPA has also highlighted the disturbing trend of acquiring private land under the guise of a "public purpose". Increasing evidence suggests that private land acquired for military use, is in fact given out for commercial ventures.