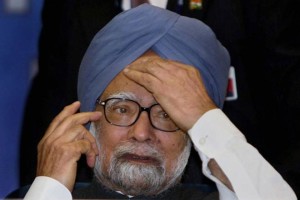 Manmohan Singh: No time for Rajapaksha!
Indian External Affairs Minister, Salman Khurshid's visit to Sri Lanka last week had been intended to pave the way for the non attendance of Indian Premier, Manmohan Singh, at the Commonwealth Heads of Government Meeting (CHOGM) in Colombo, well-placed Indian sources said. "The Premier's visit would depend on the conditions prevailing at the time and a decision would be taken on an appropriate time," sources said.

Sources added, the Indian Premier would have to take note of the constituency pressure from Tamil Nadu in light of the parliamentary elections in India scheduled to be held in April-May next year. Tamil Nadu elects around 40 MPs to the Lok Sabha, India's lower house of Parliament.
Regional parties have grown increasingly powerful and are exerting pressure on New Delhi as the Congress Party is losing the hold in the states, the sources noted. However, in an effort to appease Colombo, India has assured that Kamalesh Sharma, the Secretary General of the Commonwealth, has prevented several issues connected to Sri Lanka being taken up at the Commonwealth Ministerial Action Group (CMAG) in New York and any steps being taken to the detriment of the country. it is also learnt that Sharma strongly lobbied to retain Colombo as CHOGM's venue despite serious pressure from several countries to shift the venue, owing to Sri Lanka's human rights record.
CMAG, a rotating group of foreign ministers of the Commonwealth has the authority to suspend member States for violating Commonwealth principles.
It can be convened by the Secretary-General when required to deal with a perceived violation of the Commonwealth principles and values. CMAG meets annually on the margins of the United Nations General Assembly in New York and can also meet in extraordinary session, when required.
Another core issue to be extensively discussed during the Indian External Affairs Minister's visit was New Delhi's request for the immediate release of the Indian fishermen and the impounded Indian fishing boats. The Indian envoy has thanked President Mahinda Rajapaksa for releasing the majority of the fishermen, expressing his confidence in the issue of boats being addressed by the Sri Lankan Government.
CT