India's Congress-led government will support an international investigation into Sri Lanka's alleged war crimes to win Tamil votes in April's general electio

n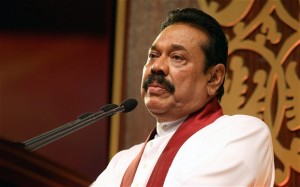 Mahinda Rajapaksa,
:

GETTY IMAGES
India is set to support an international investigation into alleged war crimes by the Sri Lankan army in the final stages of its long civil war, government sources said on Wednesday.
Its decision to add its weight to a campaign led by Britain and the United States will be a serious blow to Mahinda Rajapaksa, the Sri Lankan president, whose government has traditionally had strong ties with India.
As the biggest regional power, India's support will also increase the likelihood that next month's United Nations Human Rights Committee meeting in Geneva will pass a resolution calling for an international investigation.
The Indian government has so far remained non-committal as Britain and other supporters have lobbied officials, but privately they say the government is likely to support the resolution to keep its Indian Tamil allies on board for its Spring general election.
Dr Manmohan Singh, the Indian prime minister, boycotted the Commonwealth Heads of Government summit in Colombo last year under pressure from one of his key coalition allies, the Dravida Munnetra Kazhagam (DMK), one of the two main parties in India's Tamil Nadu.
Support for a war crimes inquiry has grown in the last year among Indian Tamils who believe their government should have done more to stop the killing in the last stages of the war. According to the United Nations, an estimated 40,000 civilians were killed in the last few months of 2009 before the final defeat of the Liberation Tigers of Tamil Elam (LTTE).
Indian officials are now waiting to receive the draft proposal drawn up by the UN's Human Rights Commissioner Navi Pillay, but they say "political considerations" rather than concerns over its relationship with Colombo will determine the government's stand.
"The decision will be made in the midst of an election campaign, so political considerations will play a key role," a government source said on Wednesday.
Mohan Guruswamy of the Centre for Policy Alternatives said the prime minister's failure to influence the Sri Lankan government in its final assault on the last Tamil Tiger strongholds in 2009 had caused anger among Indian Tamils, and that the Congress-led government would not want to inflame opinion further in the run up to the general election in April.
"They want to get some political mileage. Both the [Tamil] parties have called for an inquiry," he said.
The government's desire to maximise its Tamil vote was also a factor in the decision to release seven former Tamil Tigers jailed for their part in the assassination of former Congress prime minister Rajiv Gandhi.
Telegraph