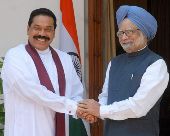 In the strongest reaction yet to India's contentious support to a US sponsored resolution at the UNHRC against Sri Lanka earlier this year, President Mahinda Rajapaksa has broken his silence by calling upon the Indian government to have a relook at its dealings with its neighbours. In a freewheeling interaction with TOI at his Temple Trees residence in Colombo, his first full-length interview since India's vote for the resolution in March, Rajapaksa suggested that India could be abdicating its leadership role in the region.

Rajapaksa, in fact, did not fully agree with India's contention that it had helped tone down the resolution against alleged human rights abuses, saying that if India had continued with its support to Sri Lanka, there may not have been any resolution against his country at all.
"Any good intentions and actions are always appreciated. But I must add that if India stood by us and supported Sri Lanka's request for more time and space, who knows, there may not have been a resolution at all," the president said when told how PM Manmohan Singh had himself intervened to make the resolution "non-intrusive".
"The region looks up to India but India must examine itself whether or not it is doing the right thing in dealing with its neighbours… what they are doing is the best thing or not," Rajapaksa said. This was in reply to a question about India's vote and how it seemed to have fuelled an anti-India sentiment in the island nation. "All I can say is that we are not a nation and people without feelings. India and Sri Lanka share common cultural and historic values and so we can feel deeply about such moves," he elaborated.
However, he stressed that the two countries needed to move on, saying that he didn't see the vote as changing the dynamics of ties between the two countries. "Past is past, let's look at the future now," he said, reiterating his comment in the past that Indians will remain like "relations" and that the two countries remain "much more than good neighbours".
The president also brushed aside the issue of growing Chinese involvement in Sri Lanka, one of New Delhi's pressing concerns, describing it as paranoia. In fact, taking a swipe at India for its own burgeoning trade ties with China, the president said, "The way India is doing business with China, Sri Lanka is not."
"Whether it is Sri Lanka's exports or imports, wholesale business or investment in land and hotels, it is India which is the main power involved. It is only India which is involved in the telecom sector too," he said, adding that Sri Lanka will not hurt India's interests in the region and that any such fear was unfounded.
Rajapaksa, however, did not give any assurance on whether or not the Chinese will be given operational control of projects like Hambantota port and airport which they are building. It is well known that Hambantota was first offered to India but the president confirmed that even in the case of Colombo port, the contract for which went to a Hong Kong-based company, it was India which did not show any interest.
"India could have participated in the tender but it did not. These are commercial interests and not a sign of any Sri Lankan strategic drift," he said.
However, he acknowledged the help from the Chinese in decisively ending the conflict in 2009. "When we had to fight the most brutal terrorist outfit in the world, we had to buy arms and ammunition from legal entities that were ready to sell them to us at the best terms," he said.
"It is important to look at things in the right perspective and not rush to conclusions. India has undertaken to build the northern Kankesanturai harbour as China builds at Hambantota in the south. India is also rebuilding Palaly airport in the north," he said. He described India's decision to allow the sacred Kapilavastu relics to travel to Sri Lanka for the first time since 1978 as a gesture that will be regarded with highest esteem and gratitude.

Following is the full interview:
The end of the conflict in May 2009 was described by both countries as a historic opportunity to work towards genuine national reconciliation. After 18 rounds of dialogue with the TNA, the negotiations have ended abruptly. Could you please tell us who, according to you, is responsible for the current stalemate?
The fact that we have had so many rounds of dialogue shows our commitment to reach a suitable consensus. We are always ready to continue the dialogue with the TNA and any others who may have views that could be expressed and shared. We have categorically stated that all these discussions could be had at the proposed Parliamentary Select Committee (PSC) and the TNA must make every effort to come to the PSC.
Sachin Parashar, TNN Aug 10, 2012,