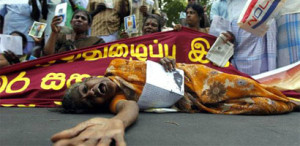 Hundreds of people held candles and photographs of loved ones as they marched in Sri Lanka's capital on Friday demanding that authorities provide information about relatives who were reported missing during the country's civil war.

The vigil, marking International Day of the Disappeared, coincided with a visit by United Nations High Commissioner for Human Rights Navi Pillay to assess the government's progress in investigating wartime abuses.
During the quarter-century civil war, which ended in 2009, an undetermined number of suspected rebels, journalists and activists were abducted by "white van squads" allegedly operated by pro-government paramilitaries. Many were never seen again.
Relatives say they also don't know the whereabouts of family members who surrendered to the army at the end of the war.
Pillay, who ends her weeklong visit on Saturday, is to report to the U.N. Human Rights Council next month on the status of the investigation into abuses allegedly committed by government troops and separatist Tamil Tiger rebels, including abductions and forced disappearances.
Separately Friday, hundreds of people protested outside the country's U.N. office, urging Pillay to probe alleged atrocities by the rebels.
About 500 people from the Dead and Missing Person's Parents Front shouted slogans and held placards reading, "Ms. Pillay we are waiting 30 years for justice."
The European Union, meanwhile, said it hopes that the government-appointed committee investigating disappearances "will approach its important and challenging task with determination and independence" and observe international standards.
The EU delegation in the country said in a statement that it "encourages Sri Lanka to draw on the support of international partners who may be able to assist with this challenging task."
-Washington Post-