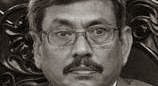 Defence Secretary Gotabaya Rajapaksa has said he will enter politics one day, at the discretion of President Mahinda Rajapaksa. Speaking to Wijeya group's latest publication, 'Deshaya' Sunday newspaper, the Defence Secretary has said although he does not have personal interest in politics, he is ready to take up the challenge if and when the President wants him to do so.
"however, I will not contest from Hambanthota. I will contest from Colombo," Gotabaya Rajapaksa has said. He will be the seventh member of the Rajapaksa family to enter politics. President Mahinda Rajapaksa, Speaker Chamal Rajapaksa, Economic Development Minister Basil Rajapaksa, Parliamentarian Namal Rajapaksa, Uva Chief Minister Shasheendra Rajapaksa and Deputy Minister Nirupama Rajapaksa are the other members of the Rajapaksa family who play active roles in Sri Lankan politics.
He also added that apart from him, the Defence Secretary of Sri Lanka. all other other members in the Rajapaksa family who are in politics, have been elected by people.
"In other countries too there were famous political families. In the US, there was the Kennedy family. In India there is the Gandhi family. Why is everyone so worried about the Rajapaksas? The Rajapaksas have been in politics from 1931. D.M. Rajapaksa was the first Rajapaksa to enter politics," the Defence Secretary said.
"Just like I ensured war victory, I have now transformed Colombo into a new city. Many raised doubts when I accepted this challenge. But now I have done it," he asserted