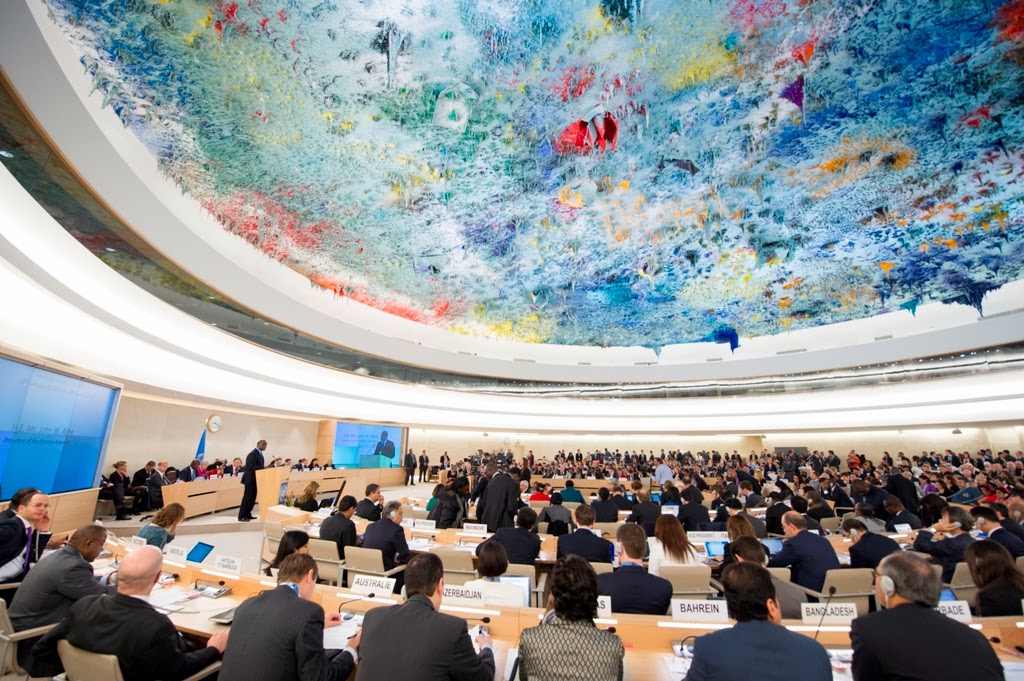 HRC 25th session in progress ( UN photo)
Devirupa Mitra /New Delhi
The text of the US-sponsored draft resolution to be tabled at the United Nations Human Rights Commission is a much watered-down version than expected, with supporters wanting to gather more favourable votes from an international community nervous about setting a precedent of an international probe.
Even Indian officials were a little taken aback at the toned-down text of the resolution, which has attracted ire and disappointment from Tamil diaspora groups, Sri Lanka's Tamil National Alliance and Tamil Nadu politicians. Instead of an unequivocal call for an international probe into Lanka's war crimes, the leaked text, circulated in Geneva on Monday, merely welcomes UN High Commissioner for Human Rights Navi Pillay's recommendation for an independent, international probe.
It asks the Office of the High Commissioner to probe the alleged violations in Lanka and monitor national processes and present a comprehensive report in a year.
According to sources, in hindsight, it was not surprising that the draft text is watered-down. "Remember, the whole idea is to get more number of yes votes than last time, or at least it should not be less than last time," said a senior official. Last year, 25 countries had voted in favour, 13 against and eight abstained at the vote for the resolution which called on Lanka to conduct an "independent investigation" into rights violations.
Sources believe the changes in the composition of the Council also favour Lanka. In the Asia Pacific group, Malaysia, which abstained in 2013, has been replaced by China, which is not in favour of an international inquiry. Russia has also become a member in the eastern European bloc, which had last year voted in favour, en masse. Beijing will be active in lobbying against a US-sponsored resolution on Lanka, with whom it has defence and economic ties.