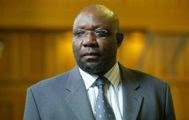 Lawrence Mushwana, Chair of the
South African HRC
The working session held in Colombo on 22 – 23 May, brought together the Chairman, Justice Priyantha R.P. Perera, Commissioners Dr. Mahanamahewa, Mr. Anandarajah, and Ms. Ismail and the staff of the Commission, with 14 of the 44 HRCSL participants traveling from the regional offices outside of Colombo.
Over the course of two days the HRCSL drafted an Action Plan on Reconciliation, outlining concrete action points; partnership opportunities; timelines and outcomes for the HRCSL to undertake to contribute to on-going national reconciliation processes.
Participants benefited from the experience of both international and local experts. Advocate Lawrence Mushwana, Chair of the South African Human Rights Commission and Advocate John Walters, Ombudsman for Namibia, both 'A' accredited national human rights institutions, shared best practice from their respective countries and institutions.
The working session also engaged the expertise of local experts Dr. Jehan Perera, Executive Director of the National Peace Council, Mr. Jeevan Thiagarajah, Executive Director of the Consortium of Humanitarian Agencies, and Dr. Mario Gomez, Member of the Law Commission, who explored the role of civil society, academia and human rights defenders in national reconciliation efforts, and shared with the HRCSL some achievements, challenges and lessons learnt in the process. A presentation was also made by the Assistant Secretary to the President, Presidential Secretariat on the achievements and challenges in the implementation of the LLRC recommendations and National Plan of Action.
The working session built on the success of the Vavuniya Roundtable facilitated by the Commonwealth Secretariat in September last year, which identified a definitive role for the Commission in reconciliation efforts, and a desire by the HRCSL to actively engage in such efforts.
This capacity development intervention is the fourth in a series conducted under the Commonwealth Secretary-General's Good Offices remit. This programme of work is aimed at strengthening the functional independence, authority and effectiveness of the HRCS