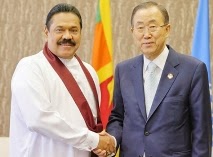 Picking numbers from thin air: The government's lies around reconciliation by Groundviews
A tweet from the government's official Twitter account around the LLRC National Action Plan noted the following on 22nd ,
External Affairs Minister of Sri Lanka Prof. G.L. Peiris says the government has implemented 85 percent of the recommendations in the Lessons Learnt and Reconciliation Commission (LLRC) report.
…the government has implemented 99 percent of the recommendations of the reconciliation commission already,as it prepares to face a US-backed resolution at the UNHRC.
In November 2013, Secretary to the President Lalith Weeratunge "said that fifty percent of the recommendations made by the Lessons Learnt and Reconciliation Commission have been implemented" (the
link to the website
at present throws up a malware warning, so
here's a screenshot
of the article).
We wonder what the greater tragedy is – whether it is government that so openly lies with impunity, or the seeming inability of the seniormost diplomats in the world to call the government's bluff, just a simple Google search away