Image: On 04th March visiting Sri Lanka Members of the Parliament Harin Fernando and Manusha Nanayakkara met with Clément Nyaletsossi VOULE, Special Rapporteur on the Rights to Freedom of Peaceful Assembly and of Association.
Here is the text of the intervention made by Harin Fernando (MP) during the interactive dialogue on the Human Rights High Commissioner's report on Sri Lanka.
(06 March 2022.Geneva) I will highlight a few key issues that are indicative of the overall deteriorating human rights situation in Sri Lanka.
My Parliamentary colleague Ranjan Ramanayake was sentenced to as much as four years and his civic rights removed imprisonment for alleged contempt of court which is not an offense defined in the law and had no right of appeal. The President has ignored requests including from the IPU to pardon Ramanayake so that he could resume his political work.
The cries of the victims of the Easter Sunday bombings for truth and justice continue to be in vain. The non-prosecution of negligent high officials gives rise to the suspicion that the real brains behind the attacks are been shielded. Instead, investigator Shani Abeysekera dubbed the 'Sherlock Holmes of Sri Lanka' and Senior Police officer Ravi Seneviratne are being hounded and their lives are in danger.
The government is reluctant to make meaningful changes to the draconian PTA which facilitated arbitrary detention, torture, and convictions based solely on alleged confessions.
Citizens exercising their freedom of expression are been harassed. Civil society activists work under severe pressure. Militarization of the civilian administration is a characteristic of the government.
Ethnic and religious minorities live in anxiety.
Added to all this is economic mismanagement. The severe shortage of essential items, disruption of electrical supply, long queues for fuel, and the soaring cost of living are but a few of its consequences.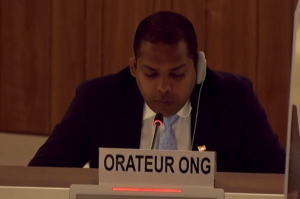 I call upon the international community to support the people of Sri Lanka whose human rights have been threatened as never before.
Thank you.
(Check against the delivery)