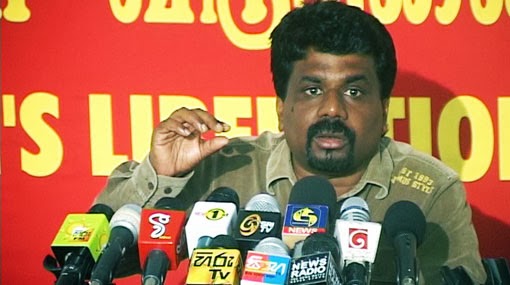 Anura Kumara Dissanayake
The JVP today charged that the government's continues violations of democracy and human rights, for the purpose of safeguarding its power, have created the opportunity for Western nations to interfere in Sri Lanka.
The government violated democracy and human rights for its power, JVP MP Anura Kumara Dissanayake said, adding, that security forces opened fire in Rathupaswala, Chilaw and Katunayake not for the country but for the sake of Rajapaksa family and the family's power.

He stated that even former Chief Justice Dr. Shirani Bandaranayake was sacked for the Rajapaksa family's power and not for the country.
He stated that the Sri Lanka Police are able to solve any controversial crime but the reason no arrests have been made regarding the numerous journalist murders and attacks on media organizations is due to the government.
He claimed that the government's direct involvement in the murders of journalists including former Sunday Leader Lasantha Wickramatunga is the main reason that no arrests have been made regarding those cases.
He stated that journalists were attacked and murdered, media organizations were torched not for the betterment of the country, but solely to protect the Rajapaksa family's power.
The country's democracy and human rights were completely violated for the power of the Rajapaksas, he told reporters in Colombo.
Not just that, within the past 4 years over 1,200 university students have been suspended, 130 students have been arrested, over 125 have been assaulted and 20 have been robbed of their degrees, Dissanayake said.
This oppression of university students is for the Rajapaksa government's attempt to destroy the country's education, he alleged.
"The Rajapaksa administration controlled the country by violating democracy and human rights for their power."
Especially in the Northern Province, the immediate establishing of democracy and human rights was required after the war, but still a semi-military control is prevailing in that region, the Parliamentarian said.
He stated that a wedding ceremony or even funeral cannot be held at a residence in the North without the intervention of intelligence officers.
Instead of safeguarding the human rights of the people in the North, especially after the war, the government continues to violate their democracy and human rights, he claimed.
These actions by the government has created the space for the western nations to interfere in Sri Lanka, he emphasized.
Similar to opposing the inference by Western nations led by the United States, the public should also oppose the government for paving the path for these counties to interfere, he said.
Anura Kumara further stated that at a time when Sri Lanka's diplomatic service should be at its strongest, the President has appointed his relatives and stooges to the top diplomatic posts.
Our country is facing the biggest threat from the US and therefore we should send the "superman" of the Foreign Service to take up the role of Sri Lanka's ambassador to the US, he said.
"Today who is our ambassador in the US? Beliatte Jaliya. A tea leaves trader who took tea leaves from Deniyaya and sold it in the US. A relative of Mahinda Rajapksa."
He stressed that instead of sending the most intelligent professionals from the Foreign Service to the major countries, the President has sent his brother-in-law to serve as Sri Lanka's ambassador to Russia, a politician who lost the last provincial polls to Italy, a former Rupavahini corporation Chairman to Germany and so on.
AD