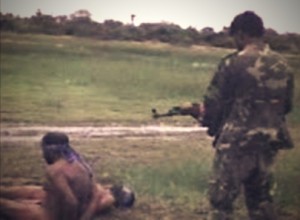 The Ministry of External Affairs said yesterday the Sri Lankan Government is willing to probe war crime allegations made by Channel 4 in the Sri Lanka's Killing Fields video, provided the UK-based television broadcaster hands over the original video documentary to check whether the footage is genuine or 'doctored.'

The ministry confirmed the government has revealed to the European Parliament that Sri Lanka is in the process of investigating the allegations of war crimes made by the TV channel, irrespective of whether they categorically deny and reject the footage contained in the documentary and its authenticity.

"When the United Nations Human Rights Council (UNHRC) told us to probe the alleged war crimes committed by the troops sometime back, we needed to see the video and confirm whether it is genuine or 'doctored' and we do need the support of Channel 4 for this. If they give us the footage, it would help us with the probe, but if they are not willing to, then they should stop showing it to people around the globe, tarnishing the image of the country that is free from war," Director General (Public Communications) of the Ministry of External Affairs, Rodney Perera, said.
He also said, "It's unethical to screen anything about Sri Lanka negatively, without getting our say on the video."
On the National Plan of Action to Implement the Recommendations made by the Lessons Learnt and Reconciliation Commission (LLRC) published in the government website dated Thursday, 26 July 2012 – under the 'Recommendation to initiate an independent investigation into the Channel 4 Video to establish the truth or otherwise of the allegations arising from the video footage', it is explained thus: Key Performance Indicator notes the Assessment has been completed and also a follow up action has been identified and pursued, as appropriate within a six-month period.
Meanwhile, it has been reported Head of Mission of Sri Lanka to the EU, Ambassador P.M. Amza has asked the Channel 4 to provide original footage of the damning video for investigation purposes.
He also claimed the documentary has misinterpreted what the Tamil witnesses had said to suit their version of the documentary.
Sulochana Ramiah Mohan
CT