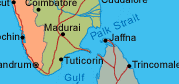 The government has turned down India's offer to develop the Palali airport and instead decided to handle it under the Ministry of Civil Aviation, it is reported.

After the war was over, India undertook several projects in the North and among them was the development of the Kankesanthurai harbour. India in addition came forward to modernize the Palali airport, but the agreement was not signed.
However, it is learnt that the government has decided to implement the northern airport project without going in for a joint venture with India.
Asked about this matter, Civil Aviation Minister Priyankara Jayaratne said his Ministry would undertake the project to expand the airport to be operated for commercial activities and for the use of the Air Force.
"We are planning to operate the airport jointly with the Air Force," he said.
The Minister also said ten domestic airports would be constructed in the country with the Ratmalana airport being expanded as the largest base for internal flights. He asserted that the government had only proposed a domestic airport in Kandy despite some people mistaking it for a third international airport.
"We have two international airports. One is the Katunayake airport while the second is being constructed in Mattala, Hambantota. It is only a domestic airport proposed in Kandy," he said.
The Minister said the lands of the School of Agriculture in Kundasale and the adjoining seed farm would not be compromised for this airport.
"We have identified four lands for it. After the environmental impact assessment, we will select the most suitable one. We will not compromise agricultural activities for it. Some people cry to create unnecessary problems saying that the School of Agriculture will be relocated in view of the proposed airport project," he said.
In the 2012 budget, Rs.750 million was allocated for the project. (Kelum Bandara)
DM