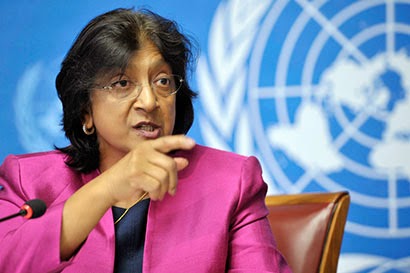 My office is ready -Pillay
President's Counsel and UNP MP Wijeyadasa Rajapakshe yesterday said that the government had no option but to face the proposed UN investigation conducted in terms of the Geneva-based United Nations Human Rights Council resolution 25/1.
The former President of the Bar Association of Sri Lanka (BASL) Rajapakshe was responding on behalf of the UNP to the SLFP's decision that Sri Lanka's participation in the investigative process would be decided by parliament.
The government had absolutely no discretion in this matter, MP Rajapakshe said, urging the government to successfully counter serious accusations or face the consequences.
The investigation is expected to focus on allegations pertaining to the massacre of 40,000 civilians during the final phase, coordinated artillery fire on civilians, purposely depriving civilians of food and medicine, targeting medical facilities, systematic rape of both LTTE combatants and civilians and conducting a war without international witnesses.
The UNPer said that parliament's opinion on this particular issue was irrelevant; therefore the government couldn't be guided by a decision taken by the House. Asked whether he believed the government should cooperate with the UN, the Colombo District MP said that it should realise that it couldn't overcome the problem by engaging in propaganda exercises.
Welcoming the decision to brief the House as regards the proposed UN action, Rajapakshe said that delaying tactics would be counter productive.
Referring to a letter received by External Affairs Minister Prof. G. L. Peiris recently from High Commissioner for Human Rights Navanethem Pillay informing the government of the proposed probe, Rajapakshe said that parliament's position would depend primarily on the SLFP.
The SLFP with 117 members, excluding Speaker Chamal Rajapaksa is the largest single group in parliament. The UNP group comprises 42 members with the five-party Tamil National Alliance (TNA) in the third position with 13 members.
The UNP MP said that whatever the position taken up by UPFA constituents, the SLFP alone could provide the required approval.
By Shamindra Ferdinando
Island