Visiting UNHRC Chief gets a more friendly reception than accorded to his predecessor.
Rajapaksa loyalists taking full advantage of the Geneva crisis; new office opened for new party.
There was both good and bad news for the Government during the four-day visit to Sri Lanka by the United Nations Human Rights High Commissioner Zeid Ra'ad Al Hussein.
The good news was Zeid's demonstrated willingness to address what the Government of Sri Lanka believes are contentious issues. Main among them is the participation of Commonwealth and foreign judges, prosecutors and investigators in the proposed judicial mechanism to probe alleged war crimes. He acknowledged the views expressed by Prime Minister Ranil Wickremesinghe during talks last Tuesday but placed the onus on the Government to prove itself through performance. This was after the Premier set out the Government's road map to address issues. That discourse has opened up avenues but it hinged on how best the Government will tackle the issues.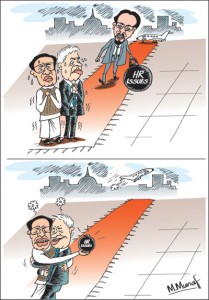 Pol-Corr-Cartoon
Zeid also for the first time elaborated on the US-backed Geneva resolution, co-sponsored by Sri Lanka. In a carefully crafted eight-page eve of departure statement Tuesday, he said, "the resolution suggests international participation in the accountability mechanisms set up to deal with international crimes and gross human rights violations by individuals on both sides…" In that elucidation he left out any pointed reference to the armed forces collectively. As for the Tiger guerrillas, the fact that such offences came from their slain leader Velupillai Prabhakaran is a historic fact.
The bad news was the insistence in Zeid's official statement that all provisions in the resolution should be implemented. That had to be expected. The resolution has been unanimously endorsed by 47 members of the Human Rights Council and it is Zeid's responsibility to ensure it is done. That is why he declared that he would have to report back to the Council on progress — or the lack of it — next June, and again in March 2017.
Foreign Ministry not in the loop
Needless to say that Zeid's assertions have left the Ministry of Foreign Affairs, which Prime Minister Ranil Wickremesinghe has accused of doing little or nothing in the past one year, in a spin. By its "Most Urgent" Circular No: 45 dated February 10 distributed to Sri Lanka heads of missions overseas, the Ministry has only sent (a) a copy of Zeid's eight page statement, and (b) the transcript of the news conference he held at the UN office in Colombo. What about Sri Lanka Government's own response to the assertions Zaid made? In some Sri Lanka diplomatic missions overseas there were media queries on what the Government's response was. High Commissioners and Ambassadors were unable to answer and asked for time. Sri Lankan diplomats were confused over what to tell their host Governments.
The fact that the Minister of Foreign Affairs was also not taken for talks government leaders had with Zeid added to the Ministry not being in the loop of what was being discussed.
Ironically the confusion seems to be worst confounded in Government ranks too. On Wednesday, Minister Faiszer Musthapha declared at a news conference that President Sirisena would not allow any foreign judges. This is after Zeid revealed barely 24 hours before that the President (as well as the Prime Minister) had re-assured him that provisions of the resolution would be implemented. Deputy Foreign Minister Harsha de Silva declared on Friday that it was up to Parliament to decide on the involvement of foreign judges. He was responding to a query in the House from an Opposition MP. The confusion caused by contradictory statements only leads to a rapid erosion of the Government's credibility and leaves room for conjecture that it is pussy footing over key issues to mislead the international community and even Sri Lanka's people.
This is without taking any bold stance and briefing its own ranks on the correct position, if there is one. The task of dealing with these matters has been officially vested by President Sirisena in the hands of Foreign Minister Mangala Samaraweera. A Gazette notification (1933/13 of September 21, 2015), which lists his functions, states, "Liaise with the international community including the United Nations Organisation on the mechanisms towards resolving the national question." On Friday, Samaraweera was in Jaffna to launch a website (http://http//www.scrm.gov.lk) to obtain views from the public on the proposed new Constitution. Here again, none of the Sri Lanka diplomatic missions have been informed of the launch. Other preparations are to begin after Parliament on February 26 debates Premier Wickremesinghe's resolution for a new Constitution. He has proposed the establishment of a Constitutional Council (or a full Committee made up of members of the House) to begin work. A significant highlight would be the formulation of a new electoral system.
There was a distinct difference between the visits of Zeid and his predecessor Navi Pillay in August 2013. As Zeid noted Pillay's was "marred by attacks on her integrity." However, Zeid's visit was in an extremely cordial atmosphere, particularly after Sri Lanka co-sponsored the resolution, thus acknowledging that all matters contained in it would be addressed. Though it was 'no holds barred,' it was nevertheless couched in polite language perhaps conscious that they would have to continue to deal with President Sirisena and cordiality was a cornerstone.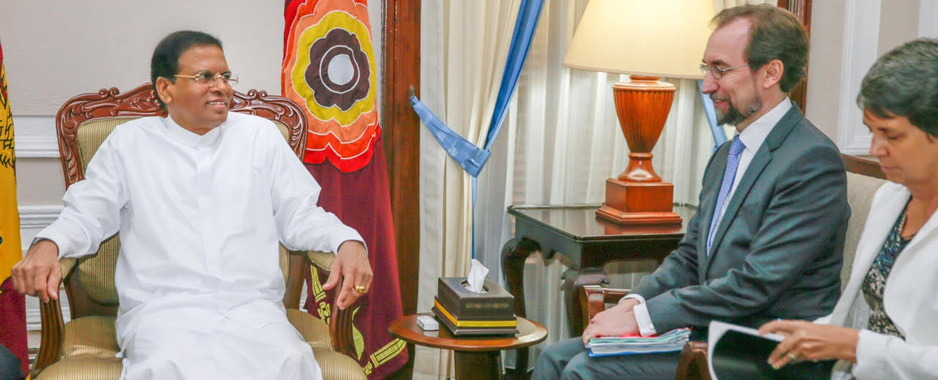 5
PM defends judiciary
Yet, there were developments that appeared somewhat encouraging to the Government. Most significant were the meetings Zeid held separately with President Sirisena and Premier Wickremesinghe. It was the latter who made a strong case over matters relating to the participation of foreign judges, prosecutors and investigators. He told the UN envoy that Sri Lanka had one of the oldest judicial systems. The Supreme Court is the oldest in Asia. Noting that he was proud of Sri Lanka's traditions, he said, most political leaders in the past belonged to the legal fraternity. The late J.R. Jayewardene came from a family of lawyers. Thus, the destiny of the country at times has been shaped by legal minds.
"We have fought battles. Please give us a chance. We will allow foreign participation wherever necessary after consulting the Bar and civil society," Wickremesinghe told Zeid. He added that foreign judges could not be conferred jurisdiction and declared "you judge us by what we put in. We will go step by step." Zeid had responded that the Government should be credible and independent and declared if it acted that way, the need for foreign judges may not become necessary. It was up to the Government to prove itself. Zeid told Wickremesinghe that the volume of work the Government undertook would show how credible such actions were and whether it met the needs of witnesses on both sides. He had also made clear it was not the Human Rights Council's intention to force anything on Sri Lanka or violate its sovereignty. There were certain obligations that had to be met.
Another knotty issue with regard to foreign judges came soon after the UN Human Rights Council adopted the resolution in Geneva last October. Attorney General's Department officials then said that it would be 'unconstitutional' to establish "hybrid courts." They said that such a step would require a constitutional amendment since the constitution at presents defined the legal instruments that existed. Those observations have raised an all important question — whether Sri Lanka that co-sponsored the resolution was unaware of that position earlier. That also poses the question whether anyone went beyond the brief in succumbing to any pressure or even unwillingly doing so. Sources close to Foreign Minister Mangala Samaraweera, however, argue that he had the prior approval of Government leaders. Yet, it is known that no approval of the Cabinet of Ministers had been sought or given.
Zeid's remarks to Wickremesinghe, however, are clearly conditional on how the Government sets about its task and are in no way binding. One factor that is in Government's favour in the post-Geneva scenario, followed by the Presidential election in January last year is a new concern by western diplomats in Colombo. In fact, one key player lobbied behind the scenes to ensure the UNHRC "goes easy" on the foreign factor. But to his dismay, a colleague had already set out his Government's stance in a tweet thus concretising the official position. He had to therefore fall in line. The rationale behind the move to play down the foreign element is prompted by one factor — to prevent any political advantage accruing to former President Mahinda Rajapaksa, his backers and extremist groups. The Government fears they would team up to destabilise the armed forces and cause unrest in the country. If that were to happen, it fears, the gains made after a regime change would be lost. For the same reasons and more, Zeid's statement has become complementary to this position though he politely articulated the UNHRC stance without ambiguity.
It appears that this aspect is not altogether lost on Zeid. He did comment on the previous Rajapaksa administration when he said "the white-van abductions that operated outside all norms of law and order, — and as intended — instilled fear in the hearts of journalists, human rights defenders and others who dared criticise the Government or State security institutions, are now very seldom reported." Of course, he also expressed concerns that "the number of torture complaints has been reduced but new cases continue to emerge – as two recent reports, detailing some disturbing alleged cases that occurred in 2015, have shown — and police all too often resort to violence and excessive force."
Despite his capacity to hear views of different sides, Zeid is known to be strongly resolute in his actions. Once, Jordan's Deputy Prime Minister, Nasser Judeh rejected a UNHRC report. It charged that Saudi led coalition forces may have committed human rights violations in Yemen and targeted civilians as well as civilian facilities in that country. Zaid hit back saying the issue was not "personal" and that he represented a UN organisation whose work is based on international charters, values and principles. In another instance, Zeid, a Jordanian (former envoy to the United Nations) joined as advisor to then UN Secretary General Kofi Annan to address the problem of sexual exploitation and abuse by UN peace keeping troops. Zeid said in his report that sexual violence and harassment against women and girls was poorly handled by state institutions — particularly when alleged perpetrators are members of the military or security services, and as a result remains too widespread.
In his statement, Zeid made no reference to the word "war crimes." This was in marked contrast to his report, the precursor to the UNHRC resolution, where there were references 26 times. This no doubt was good news for President Sirisena who told Al Jazeera television in an interview that there were no allegations of war crimes against troops. He said there were only accusations of violating international humanitarian law and human rights. At least technically, he was right. The absence of any reference to war crimes together with only references to "individuals" committing international crimes and human rights violations also nullified totally any claims of alleged genocide by the armed forces, a charge made by extremist Tamil groups. During a news briefing in Geneva on September 21 last year, after the OISL report was officially released, Zeid was asked about alleged genocide. He replied that there was "insufficient evidence right now" but added that cannot be ruled out if further evidence surfaces. Now, with "individuals" being accused, the question may not arise.
The emphasis on "individuals" committing international crimes and human rights violations, diplomatic sources said, has significant connotations. If for example a large number of troops are accused of violations, the impending judicial mechanism would be able to discern the individual or individuals in the command and control structure of the armed forces who gave the order for such violations. "It is those who did so, politicians, officials and military leaders who will become liable and not the hundreds who carried it out," said the source. The source added "it is also a way of saying the investigations are not pointedly directed at the armed forces per se."
Zeid's commitment to ensure the provisions of the Geneva resolution are implemented came during a detailed discussion with parliamentarians of the Tamil National Alliance (TNA) at the Cinnamon Lakeside Hotel on Tuesday. He heard the TNA views on a number of matters including the cases of those who have disappeared. Zeid referred to Premier Wickremesinghe's remarks (made in an interview with Britain's Channel Four) that nearly all the disappeared persons are presumed dead. He said this has "created great distress among their families, who till then still had hope" and urged rapid action to identify precisely who is still alive. The Government has agreed to a request by the TNA for a parliamentary debate on February 23 on disappeared persons. Home Minister Vajira Abeywardena on Friday announced in Parliament that Certificates of Absence would be given to missing person's relatives to claim pensions and other entitlements from the Government.