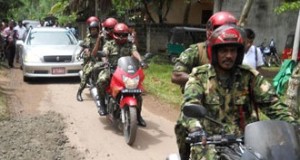 04.June.2011
We are compelled to reveal with deep regret that the final funeral proceedings of young Roshen Chanaka who was ruthlessly murdered by the police faced obstruction from Rajapakse regime's army owing to their forcible disgraceful intrusion into it.

About a group of about a thousand army officers headed by a Brigadier had carried out this operation. In Sri Lanka except Muslims no other religious followers conduct final funeral rites in the morning. Yet , this morning at about 9.30 a m, this army group has forcibly carried the body of Roshan to Galmaluwa Roman catholic church. The residents of the area have objected to this use of force.
A village resident who had made preparations for his burial at the grounds , was chased away by the Army and taken over this task to which the residents of the area have raised fierce protests. Because of these protests the Army's attempt to conclude the funeral proceedings in the morning was foiled. The residents had succeeded in postponing it to the evening .
About 25000 persons paid their last respects to dead Roshan while ten thousand attended the funeral proceedings . No politico of the Govt. attended the funeral.
In accordance with the order issued by the court , the priest in attendance conducted the ceremonies and delivered the sermon. However , something most curiously omitted by the priest was his failure to mention that Roshen died at the hands of the police due to their shooting despite the fact that this priest was standing on the scared pulpit with the cross which signifies the killing of Jesus Christ and where he is expected to speak the truth .
Residents of the area stated that two relatives of Roshan Chanaka were given large sums of money each by the Rajapakse regime to silence them.
LNW