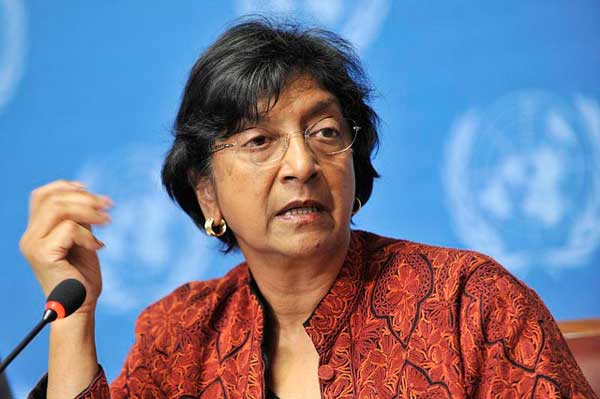 Navi-Pillay
UN High Commissioner's Spokesman says allegation is latest in a pattern of abuse
Claims UN Envoy wanted to commemorate all victims of conflict where 30-year war ended
Says UN dropped plan after Govt. took exception
By Dharisha Bastians
The Office of UN High Commissioner for Human Rights Navanethem Pillay broke its silence yesterday over Government claims that she had attempted to a pay floral tribute where LTTE Leader Vellupillai Prabhakaran had been killed, saying the allegations were a 'gross misrepresentation'.
Spokesman for the High Commissioner Rupert Colville told the Daily FT that it was a "gross misrepresentation" to pretend Pillay was planning to honour the LTTE. "She made her views on the LTTE very clear in her statement," he asserted.
Colville said the visiting UN Envoy had wanted to pay respects to all those who had lost their lives as she often does while visiting countries recovering from conflict. "We considered the general area where the war ended after nearly 30 years might be a suitable spot to commemorate ALL those who died during that conflict," Colville said.
He said that the Government had taken exception to the plan.
"The Government learned that we were considering doing this and made it very plain that they saw it in a different light. We considered their point of view carefully and felt in the end that it might be misinterpreted – as indeed it has been – so decided not to proceed," Pillay's Spokesman told the Daily FT.
The High Commissioner's Spokesman charged the misrepresentation that Pillay was going to honour the LTTE with a floral tribute was "the latest in a pattern of mendacious abuse" she had referred to in her closing remarks in Colombo last Saturday. Pillay charged that Government propagandists and Ministers claimed she was a tool of the LTTE, which she said was "wildly incorrect" and "deeply offensive".
Colville explained that the words she was to speak in Mullaitivu had been included in her final statement, where she paid her respects to all Sri Lankans, across the country, who were killed during those three decades of conflict, and offered her heartfelt sympathy to their families.
External Affairs Minister G.L. Peiris told a press briefing in London on Monday that High Commissioner Pillay had kept the Government in the dark about the plan to pay floral tributes in Mullivaikal. In a statement issued soon after her departure on Sunday, the Government Information Department accused the UN Envoy of having made what it called a "surreptitious" effort to pay a floral tribute at Mullivaikal.
"It was pointed out by the Sri Lankan side to the OHCHR delegation that if such a gesture needed to be made it should be done at a venue common to all victims of the 30-year terrorist conflict and not on the grounds where the LTTE leader met his death, the Government said in a statement.
September 5, 2013
FT