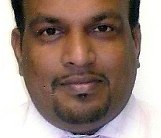 The British government and a legal charity have expressed concerns about the plight of an ill British Tamil who has been held in Sri Lanka for almost four-and-a-half years without charge or trial under controversial anti-terror legislation.
Viswalingam Gopithas, a father of two from south London, was arrested in Colombo in April 2007 on suspicion of seeking to provide support to the Liberation Tigers of Tamil Eelam (LTTE).
The 41-year-old shopowner denies the that he was trying to supply the LTTE with night vision equipment, and says he was in fact bringing mobile phones and global positioning systems back to the UK to be used in a friend's minicab business.
Gopithas also points out that he never brought the equipment into Sri Lanka – leaving it bonded at customs in the airport while he visited his family – and that in any case, it was not prohibited material at the time.
Shortly before he was due to return to the UK, he went back to customs to check that his packages would be ready for him to take home. It was then that he was arrested by officers attached to the terrorist investigation department, where he was held for almost a month.
After being made to sign a statement in Sinhalese – a language he does not understand – he spent a year-and-a-half in police custody. He was then moved to the New Magazine prison in Colombo, where he has been held for three years without charge or trial.
Gopithas is understood to be the only British national held under the Prevention of Terrorism Act, which has been criticised for its provisions allowing people to be held indefinitely without trial. Its continuing use has come under renewed scrutiny since the end of Sri Lanka's 26-year civil war in 2009 and the defeat of the Tamil Tigers.
Gopithas, who had a stroke in 2007 and suffers from heart problems and high blood pressure, says that conditions in the overcrowded prison are affecting his health and that he is not getting proper access to medical treatment. "He sleeps on a concrete floor with no mattress and there's no ventilation or fans or anything," a relative told the Guardian.
"Sanitation-wise, it's full of cockroaches and bedbugs and a lot of things. It's not a sanitary place. They have to queue for the toilets: there are two toilets for 80-100 people."
Gopithas has also told his family that he would rather die than face indefinite detention as he knows he is not the only one suffering. "He says it would be better if he died or if they shot him because it would stop his suffering and the family's suffering," said another relative. "He says everyone's suffering because of him, including his father, who's 80 years old and comes every day to bring his food."
The Foreign Office says it has pressed the Sri Lankan authorities to expedite their investigation since 2007 and would continue to do so, adding that Gopithas was receiving regular consular visits.
A spokesman said: "FCO minister Alistair Burt raised Mr Gopithas's continued detention without charge with the Sri Lankan foreign minister, [G L] Peiris in June this year … [and] more broadly, the UK has regularly expressed its concern about legislation in Sri Lanka that allows for prolonged detention without charge."
The Guardian also understands that there is frustration within the British government that Gopithas has neither been tried nor released. A debate on the human rights situation in Sri Lanka will be held Thursday afternoon.
The charity Fair Trials International has filed an application before the UN human rights committee challenging Gopithas's indefinite detention under the PTA, and asked the British government to raise the matter with Colombo.
"The Sri Lankan conflict ended years ago but thousands of people, including Mr Gopithas, still languish under so-called 'emergency laws' with no trial and no end date to their detention," said Jago Russell, the charity's chief executive.
"British authorities must pressure the Sri Lankan authorities to either try Mr Gopithas fairly or put an end to his arbitrary detention, and allow him to return home to his wife and two young daughters in London."
Lee Scott, the Conservative MP for Ilford North and chair of the all-party parliamentary group for Tamils, said it was time Gopithas's case was dealt with. "I have called for a fair trial with full evidence to be brought forward," he said. "After this length of time this should now be resolved urgently and fairly."
Father S J Emmanuel, president of the Global Tamil Forum, said: "Whilst we welcome the withdrawal of the emergency laws, we are even more concerned about the current trend in which suppressive laws such as the PTA and the most recent law are being legislated. Previously, emergency rule extensions had to be passed through parliament on a monthly basis, however by legislating these same kinds of laws, the government is avoiding all checks and balances."
Sam Jones
guardian.co.uk,