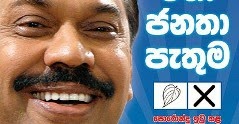 PTI – Colombo
Sri Lankan President Mahinda Rajapaksa has described his party's victory in the provincial polls as a mandate against the UN rights resolution on his country."People have given a clear message that no international interference would be tolerated," Rajapaksa said in a statement. His ruling UPFA coalition retained the control of both western and southern provincial councils with reduced majorities.
Sri Lankan President said that he was only concerned about the votes he received in the country not about the votes overseas, in a reference to the vote at the UN Human Rights Council on a resolution against the country.
The resolution, which called for an international probe into alleged war crimes by Sri Lanka during the civil war that ended in 2009, was adopted with a 23-12 vote with 12 abstentions, including India, in the 47-member UN Human Rights Council's session at Geneva on Thursday.
Sri Lanka will now have to cooperate with an international investigation into alleged human rights abuses.
Rajapaksa said winning the two councils was a fitting reply to anti-Sri Lankan elements — both local and overseas.
He said he would not allow any international force to undermine Sri Lanka's progress.
NIE