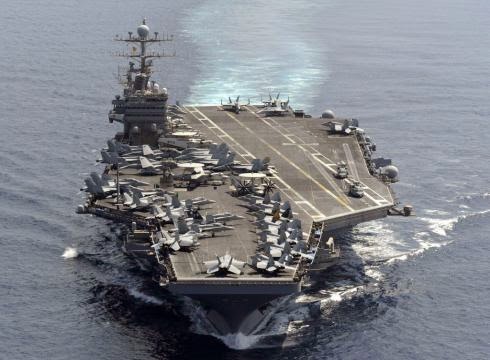 Aircraft carrier USS Abraham Lincoln
stationed in Indian Ocean
Parasaran Rangarajan
The United States is reported to have requested a military installation in Sri Lanka as part of its "Pivot Towards Asia" where the Pentagon has stated that approximately 60% of U.S. Navy assets will be in the Asia Pacific region including Oceania, South China Sea, and the Indian Ocean by 2020[1] .
Sri Lanka is currently under increasing international pressure for violations of international law and views the continued U.S. sponsored resolutions at the United Nations Human Rights Council (UNHRC) against the island nation as interference in its domestic affairs in a larger attempt to bring about regime change under the guise of human rights.
While there is no doubt that justice cannot be delayed in regards to the events which took place in 2009, U.N. resolutions have been regarded as pre-texts for other actions as of late since the UNHRC cannot refer cases directly to the International Criminal Court (ICC) although this is within the scope of its mandate if both bodies decide to work together in the future. Citing this reason, some of the anti-western nations have denied support for this resolution seeking justice under international law. Hence, we must review the justifications the actions of the UNHRC establishing an international investigation into Sri Lanka emulating the North Korean structure or similar actions by the Office of the High Commissioner on Human Rights (OHCHR)alongside the de-militarisation aspect.
The current outgoing Prime Minister of India, Dr. Manmohan Singh, has been criticized by opposition parties for being weak and not taking stronger stands in foreign policy issues including those related to the increasing Chinese influence in the Indian Ocean among other matters. In his last official trip overseas to the BIMSTEC conference in Myanmar where he met Sri Lankan President Mahinda Rajapaksa, he has sought de-militarisation of the Northern Provinces of Sri Lanka as there are reported to be nearly 175,000 troops stationed conducting illegal land grabs, human rights violations, and interfering in daily normal civilian life[2]. While de-militarisation may be difficult under the Constitution of Sri Lanka as noted by senior government of India advisers, this must be looked at seriously in relation to human rights and strategic gains for India[3]. Many of these troops and its commanders have been implicated in allegations of violations of international law and denied visas to the U.S for training as under U.S. law; those alleged for war crimes cannot be given training.
Some Sri Lankan Army (SLA) personnel such as General SarathFonseka have openly come out and stated that if there is an international investigation into war crimes, the responsibility and chain of causation for these heinous crimes will lead to him as he oversaw much of the last phases of the Eelam War between the government of Sri Lanka and Liberation Tigers of Tamil Eelam (LTTE) but this can be viewed as an attempt to shield the Rajapaksa administration and executive branches[4]. We will not know the details of this matter until an international investigation is completed because diplomatic communications from the U.S. as found on WikiLeaks have shown information that the orders to shell the "No Fire Zones" came from none other than the Rajapaksa family[5]. This has been echoed by others in the international community including Tamil Diaspora organisations as well who have been campaigning for an international investigation.
Whether or not the UNHRC resolution on accountability in Sri Lanka will be used for pretext for sanctions or other measures should not be of concern as the international community should first realise that the current Rajapaksa administration has proved that it has no intention of delivering justice for the families nearly five years after this tragic event. The outcome of the resolution is something that the government of Sri Lanka will have to face as a consequence of failure to implement its own domestic solutions in a timely manner after repeated calls and resolutions by the international community allowing for time over and again. For a country to vote against this resolution would send a message that it is not interested in justice for alleged violations of international law and furthermore; it is not the way forward in the civilised world we live in today where countries must work with each other to assist the victims of human rights violations and war when time has elapsed for domestic solutions.
The issue of de-militarisation is very closely intertwined with the latest resolution on accountability of violations of international law in Sri Lanka this year as it is mentioned in the draft since the OHCHR has also noted the need for de-militarisation of the Northern Provinces[6]. One of the reasons behind this is very simple as an Army under international investigation for various war crimes cannot remain in the area it has allegedly victimised as it will perpetuate more human rights violations, violence, and radicalisation of the population. Furthermore, five years after the end of the war, the Sri Lankan military has failed to de-mine civilian areas and has requested another two years to complete this task. It should be noted that in 2012, Sri Lankan Defence Secretary Gotabaya Rajapaksa had mentioned all de-mining activities in 1-2 months to obtain the United Nations High Commissioner For Refugees (UNHCR) Clearance Certificate for resettlement of Internally Displaced Peoples (IDP's) and there were absolutely no Army installations along the A9 highway which runs from Colombo to Jaffna. He also invited people to take pictures to prove him otherwise[7]. In late 2013, an Indian student from Tamil Nadu had done exactly that and was arrested and detained for taking pictures of Sri Lankan military installations[8]. Two years later, Sri Lanka has requested another two years to complete de-mining activities despite earlier guarantees in order to justify its military presence who have also been alleged to been engaging in coercive population control as noted by the Population Research Institute[9]. Furthermore, maps highlighting the military presence in Sri Lanka show an unnecessary amount of Army installations along the A9 highway[10].
Nevertheless, we should not look past the legitimate defence concerns of the government of Sri Lanka in the Palk Strait, Bay of Bengal, and Indian Ocean; major shipping channels which hold strategic importance as well as reports Sri Lanka has put on the table that the LTTE will re-emerge. The latter can be viewed as rhetoric as the re-emergence of the LTTE is not possible according to many experts who knew them well since it took nearly five decades and support of many international players to form such a militant group. The high number of military installations in Jaffna or Mannar to protect the Palk Strait shipping channels cannot be justified when the neighboring superpower itself has requested to scale down the presence since there needs to be cooperation between the two nations on this matter. For Sri Lanka to act otherwise would be acting against the interests of India and possibly posing a threat to Indian security.
The unique scenario in the Indian Ocean has taken an even more interesting twist with Mauritius and Seychelles joining the Indian Ocean Maritime Security Alliance with Maldives and Sri Lanka with approval of India much to the opposition of Sri Lanka as Mauritius has co-sponsored the resolution for an international investigation against the island nation this year[11].A key issue for India is to manage the expansion of Chinese influence in the Indian Ocean where Sri Lanka has not been willing to compromise to move closer to India. Forming closer security ties with Seychelles and Mauritius allows India greater leverage in dealing with Sri Lanka as now, all nations in the Indian Ocean Maritime Security Alliance are closer to India than China so India can rely less on Sri Lanka to secure the region. In fact, forgoing Indian interests for foreign players has been the case for decades in Sri Lanka as in the Indo-Pak Wars, Sri Lanka allowed the Pakistani Air Force to refuel in Sri Lanka when No Fly Zones were created over India in the 16 day liberation war of Bangladesh or East Pakistan as it was known at the time. China has built several ports and has invested a large amount of money in development efforts in Sri Lanka where India has been a spectator.
China has invested largely in Sri Lanka's infrastructure ranging from transportation, communications, development, and has forged close defence ties. Therefore, it is in India's interests to expedite de-militarisation of the Sri Lankan Army in the proximal areas to the Indian border and take a strong stand against Chinese influence in Sri Lanka in the changing dynamics of the Indian Ocean. Another issue for India is the implementation of the Indo-Sri Lanka Agreement (ISLA) calling to not only implement the 13th amendment by merging the Northern and Eastern Provinces, devolving the adequate powers from the central government to the provincial administration including land and police powers, management of public services, but to go beyond the 13th amendment to honor the late Prime Minister of India Rajiv Gandhi. If Sri Lanka is not able to honor this agreement, other options for a political solution must be looked at in the interests of the local population who have close ties with the second largest ethnic group in India; Tamils.
On March 19th, 2013; U.S. Senate Committee of Foreign Affairs Chairman Mendez wrote a letter to the U.N. Human Rights High Commissioner that time had run out for Sri Lanka to implement the 13th amendment and demilitarisation is angering the local population who view it as an occupation force[12]. This reinforces the case on why deadlines should be put by the government of India or international community on implementing both. This would not be dictating internal affairs of state but sending a clear message that Sri Lanka must honor international agreements and respect the values of democracy it has subscribed to. While the 13th amendment may not be a permanent political solution for those seeking a separate state of Tamil Eelam, it will give the appropriate platform for Tamils to choose their political status without interference; the definition of self-determination which is a cornerstone of the U.N. Charter.
If there a role for the U.S. to play in Sri Lanka beyond addressing accountability and human rights is a question to be answered as well and as previously mentioned, it is a reason why some nations have strayed from voting in favor of justice in Sri Lanka. At the moment, it would be premature to critically assess if India would be able to exert pressure on Sri Lanka to clear a presence for a U.S. base in Sri Lanka as it has requested despite mutual Indian and U.S. interests in countering China. Whether it is in India's interests to have a U.S. military base in Vanni or Killinochi or close to the shores of Rameswaramis also a question of relevance. However, looking at the overall presence of the U.S. in the Indian Ocean and the inevitable need for the U.S. and India to work closer together, one U.S. base in Sri Lankais not likely to pose security threat to India and could possibly help deter China who has built several ports publically while reports have emerged that Chinese vessels have been spotted in the Palk Strait.
For the most part, India has given up the idea of direct intervention in foreign nations after its deployment of the Indian Peacekeeping Forces (IPKF) in Sri Lanka nearly two decades ago where it lost many soldiers. However, if she is to play the role of a superpower and become a permanent member of the U.N. Security Council, preventing foreign interventions (both direct and in-direct)in South Asia through strategic planning cannot be ruled out using the Monroe Doctrine as a foreign policy instrument which has been mentioned by former External Affairs Minister of India Yashwant Sinha[13]. For now, India itself will not establish a base in a foreign nation even if it is offered one due to its policy of non-intervention but could use the support of its western ally to set up a proxy base. The U.S. will gladly take up this offer to establish a stronghold in the Indian Ocean, either temporary or joint, for mutual interests of countering China and to keep a check on India. The growth of China in the Indian Ocean in relation to the re-positioning of the U.S. Navy to the Asia-Pacific region will have to be dealt with seriously by the next government in India where such options cannot be overlooked.
Setting a deadline for gradual phasing of de-militarisation of non-static Sri Lankan military installations in the Northern Province is not only in the interests of the regional superpower India but in the interests of the international community as it is a human rights issue as an accused Army cannot genuinely stand before the population it has victimized without resentment from the local Tamil civilians. To this effect, the Northern Provincial Council has passed a resolution calling for the eviction of the Sri Lankan Army from civil activities in the North which is in its power to do so as a legislative body[14]. The re-stationing of these forces will ultimately lie with the President of Sri Lanka but the international community has a role to play in listening to the voices of the victims on the ground represented by newly elected officials after 30 years of war.
This balancing act of managing legitimate security concerns of Sri Lanka with human rights and interests of India can be complex. However, if there is to be lasting peace on the island; it must begin with justice for the victims through the most efficient international investigation mechanism possible taking into account the mandate of the UNHRC, implementing resolutions by the local Northern Provincial Council, and restoration of a civil environment in the Northern Province by de-militarisation of a significant number of military installations and Army personnel under investigation for violations of international law.
(The writer is currently the editor of the international Law Journal of London and this paper was written after attend the current UNHRC session. He may be reached at [email protected])
SAAG