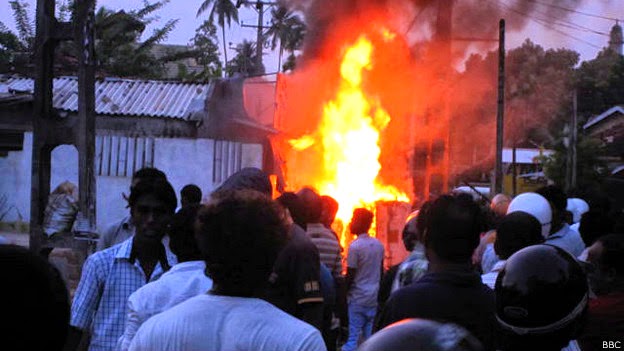 It is none other than defence secretary Gotabhaya Rajapaksa who is behind all the communal clashes, charges UNP MP Mangala Samaraweera. As explained in parliament and at recent media briefings, Bodu Bala Sena has links with the defence ministry and receives money from a secret account of that ministry, he told the media in Colombo today (24). Referring to the Aluthgama clashes, MP Samaraweera said weeks following his exposure in parliament of this secret account, it became known to the entire country that secretary Rajapaksa was to open a BBS office in Galle.

This group has been sowing the seeds of hatred instead of Dhamma for two years, he charged.
The UNP MP also said that during the visit by the party's leadership council members at Darga Town and Aluthgama, it was revealed the STF was behind the attacks, and a garment factory employing nearly 30 Sinhala labourers had been set on fire, among other affected properties.
Calling for an independent investigation into the incident, he said the bodies of the youths who had died in the clashes should be exhumed.
JMO reports into the persons who had been shot dead, have been tampered with to claim they had died due to knife attacks, which had been done by the justice minister himself, he charged.
Referring to the fire at No Limit clothes shop in Panadura, he said footage of CCTV cameras of an adjacent property, which he showed to the media, indicated the arsonists who had stormed the premises were wearing black boots and were linked to law enforcement agencies.
He challenged the IGP's claim that an electricity leakage had caused the fire, and questioned as to how the vehicles parked in front of the shop beyond the area which can be affected by an electricity leakage, could catch fire.
MangalaS 410px 24 06 14Police, which have become inactive due to interventions by the US citizen defence secretary and his followers, were not to be blamed for the incidents on June 15, he said.
The MP went onto say that this communalistic group was being led by Kapila Hendrawitharana, secretary to Gotabhaya Rajapaksa, and its key coordinator is Suresh Salley, a Malay, and State Inteligence Service chief DIG Wagista is also involved.
The IGP has become helpless in front of them, he said.
The 13 suspects arrested in connection with the incident were released by DIG Nawaratne due to threats by the monk by the name Gnanasara, despite strong objections by DIG Indran, who had been given a punishment transfer.
There is no Muslim extremism in this country, he also said, adding that it was a national requirement that the SIS does its duties properly, or else others will have to intervene.
The UNP MP said the identities of the SIS officials would have to be made public as a national responsibility if they fail to do their duties correctly.
SLM