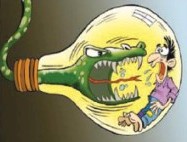 Sri Lanka's power minister has sought cabinet approval to raise state-run Ceylon Electricity Board's borrowing limit to 74.2 billion rupees to meet increasing fuel needs, settle debts and pay independent power producers, a report said. Minister Champika Ranawaka told his cabinet colleagues that the state power utility owed 16 billion rupees to independent power producers and another 15 billion rupees to state-run Ceylon Petroleum Corporation, the Colombo-based Sunday Times newspaper said.

The higher borrowing limit will be used to meet:
– Overdraft and term loans – 45 billion rupees
– Provision for letters of credit — 10 million rupees
– New guarantees for independent power producers — 19.2 million rupees
The minister blamed the heavy costs on the prevailing drought that has limited hydro power generation. The CEB is now depending on expensive thermal power to provide uninterrupted electricity supply to the country.
"As payables to independent power producers have reached peak level, purchasing of fuel from CPC for thermal generation has been limited. IPPs have utilised their credit limit to maximum level," Ranawaka was quoted in the report.
The CEB has secured a 20 billion rupee short-term loan facility from state-run People's Bank PLC during past few months, to settle these liabilities to CPC, the independent power producers and to import coal.

The short-term loan was used to settle:
– Overdraft of 800 million rupees
– Term Loans of 5.410 billion rupees
– Short Term Loan Facility (Bill Discounting) of 20.454 billion rupees
Ranawaka said a 10 billion rupee Letter of Credit/Guarantee has been fully utilised. Only a standby letter of credit facility of 18 billion rupees has not been utilised.
As a temporary measure, the CEB had approached People's Bank for a term loan facility, to partly settle the CPC and the independent power producers.
However, People's Bank had rejected the request since it goes above the single borrower limit enforced by the Central Bank of Sri Lanka.
"Hence Minister Ranawaka wants his ministerial colleagues to approve his request to ask the Governor of the Central Bank to increase the single borrower limit to the CEB to 74.2 billion rupees," the report said.
Ranawaka said the CEB was in "severe financial crisis" despite imposing a fuel surcharge between 15 percent to 40 percent in February to trim losses.

The minister said there were broadly four reasons for the financial crunch:
1. Increase of cost of independent power producers and CEB fuel due to increase of fuel prices by CPC and increase of thermal generation due to prevailing drought situation in the country.
2. Additional revenue on Fuel Adjustment Charge is not sufficient to cover the increased fuel cost.
3. Non-receipt of subsidy from the Government for 2011.
4. Use of CEB funds for capital works for which Government funds were not received.
Ranawaka's shocking disclosure comes as CEB trade unions are once again demanding a substantial pay hike
cartoon credit: Sunday Leader
LBO