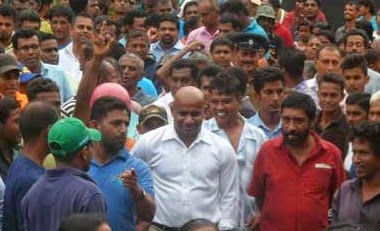 Thugs led by MP Jayasuriya
University teachers question as to whether S.B. Dissanayake is the minister in charge of higher education, or if not livestock or terrorism affairs.Their association FUTA, at a media briefing in Colombo today (06), charged the government of being behind death threats received by lecturers of Ruhunu University after they condemned an attack on students of the university.President of the association Dr. Chandragupta Thenuwara said they strongly protested the higher education minister's having called lecturers and students by names of various animals.
The attack on the students took place during a protest by a group of persons near the university on June 02 against a decision not to hold the 2015 Deyata Kirula exhibition at the university premises.
Following the incident, the administration closed four faculties definitely.
Lecturer Dr. Upul Abeyratne said the police gave cover for the thugs who had carried out the attack, and that it was not villagers, but thugs brought by government MPs who had staged the protest.
Meanwhile, the Students' Union of Peradeniya University staged a demonstration at Galaha junction today to condemn the attack and the closure of four faculties at Ruhunu University.