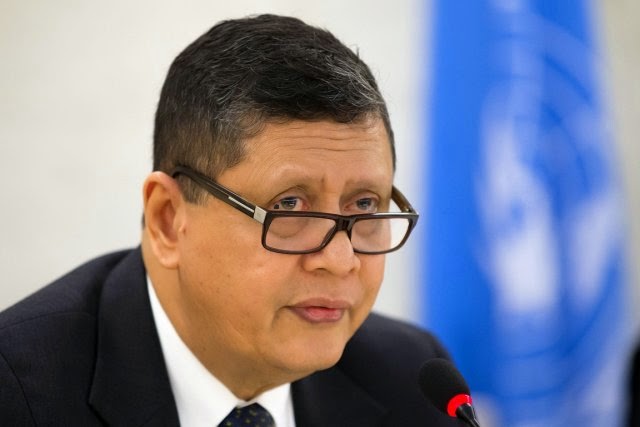 Marzuki Darusman (UN photo)
Sri Lanka is to face tougher times on the human rights front with Marzuki Darusman, one of the members of the UN Experts Panel who probed into alleged war crimes in Sri Lanka, is tipped to be appointed as the UN High Commissioner of Human Rights after Navi Pillay's retirement in August.
Navi Pillay succeeded Louise Arbour as the UN Human Rights Chief in Jul, 2008 and has held the for nearly 06 years. Darusman is an Indonesian lawyer and a politician who also has years of experience at the UN, particularly on the human rights front.
After fifteen years as a member of the People's Representative Council with President Suharto's Golkar party, Darusman served as the country's prosecutor general from 1999 to 2001. Darusman has served on several national and international human rights commissions, and in August 2010, he became founding director of the Human Rights Resource Centre for ASEAN.
In 2008, Darusman was called by Lynn Pascoe, an Under-Secretary-General of the United Nations, to participate in the United Nations inquiry into the assassination of former Pakistani prime minister Benazir Bhutto.The committee which included Darusman spent nine months investigating the incident through 2009.
It was In June 2010 that he was appointed to a three-person panel to write the Report of the Secretary-General's Panel of Experts on Accountability in Sri Lanka, which dealt with alleged war crimes during the final phase of Sri Lanka's Civil War.The report said there were evidence of numerous war crimes and condemned both the Sri Lankan government and its Lessons Learnt and Reconciliation Commission (LLRC). However, there was a strong public outcry in Sri Lanka against the UN Panel of Experts and the report was often called as the "Darusman report" by the Sri Lankan government.
Although there is no official statement from the UN that Darusman would replace Navi Pillay in Ausgust, it was widely speculated among political and diplomatic circles that the Indonesian lawyer would be the next UN Human Rights Chief.