Sri Lanka is at dire risk of a new wave of Covid-19 infections. Several professional organisations such as the Association of Public Health Inspectors have been warning us for weeks of this danger. Rather than heeding these warnings and taking necessary precautionary actions, the government spent the crucial days before the Sinhala and Tamil New Year trying to enact legislative manoeuvres that pose grave threats to our sovereignty, democracy and rule of law. Efforts to rush through the Port City Bill and to use a parliamentary resolution to subvert the judiciary are not the actions of a patriotic, disciplined or responsible government.
Instead of addressing the pandemic, the government today remains occupied with turning the police and criminal justice system into weapons to silence dissenting voices. Rather than engaging with or responding to their critics, the government is trying to lock them up. Today Parliamentarians, police officers, lawyers and poets are languishing in jail for no crime other than criticising the regime, discharging their duties with integrity, representing their clients in court or penning thought-provoking literature. The government has also announced plans to enact laws to police free thought, debate and discussion on the internet.
We are horrified and outraged at the ongoing moves to arrest a parliamentarian for exercising his parliamentary privilege of speaking on the floor of the House. Such behaviour is unbecoming of a democratic republic. If these illiberal policies continue, Sri Lanka risks further isolating itself on the world stage. We cannot face these affronts to the sovereignty of our country and our fundamental democratic traditions in isolation. These challenges can only be overcome if all Lankans who value their freedom and liberty join hands and unitedly face this threat.
Sri-Lanka navy committed cruel treatment against two fishers of Pesalai village of Mannar Division of Mannar District in November 2020 during the first wave of COVID pandemic in Sri-Lanka and it was gone unnoticed. These fishers are members of the "Kaataspathiri Fisheries Cooperative Society".
One of the two fishermen is Mr. M. Ratheesan, 28 and the other one is 21 year old young lad. They went on fishing on 19th November 2020 around 2:30 am for fishing and returned as the boat engine caused trouble. Just there was 50 meters to reach the shore, four navy personnel who were in their uniforms approached the fishers by their navy boat and checked the documents. According to the affected fishers that they had not had the boat pass at that time even though they had their fishing passes for themselves given to them by the Fisheries Department. Then the navy took both of them to the Mangalapiddy, Vangalpaadu navy camp and hit them with iron bars and wood stripes. Around 6:00 am they were released warned not to inform to police or to any other persons.
According to Mr. Ratheesan, navy accused them that they were smuggling turmeric from India and they were on their way back from India. "Navy covered my face with a wet sack beaten up me with 10mm iron bar and wood stripes for 30 to 40 times. They also squeezed my sexual organ and tortured me. Therefore, due to suffocation and pain I fainted. When I opened my eyes, I found that I was unable to get up and walk. With the help of my fellow fisherman, I came home. Still, I am blood vomiting and suffers with severe pain in the spine".
As navy accused the two fishermen as they were returning from India and suspected that they might have contracted corona virus, police and public health inspector visited them and subjected them for 14 days self-quarantine. Mr. Ratheesan stated that they were not subjected to polymerase chain reaction (PCR) test after the completion of the quarantine period. Once the quarantine period was ended on 3rd December 2020, he was granted a confirmation certificate from the public health inspector. After the quarantine period Ratheesan went to police to make a complaint, but the police did not accept his complaint. On 6th December 2020 he Mannar base hospital and received treatment for three days. Later he made a complaint at the human rights commission as well.
Initially, Pesalai police did not accept the complaint but after the instructions of the District Inspector General (DIG) of Vavuniya his complaint was accepted by the respective police station on 9th December 2020. Police requested Ratheesan to voluntarily withdraw the complaint, but he didn't.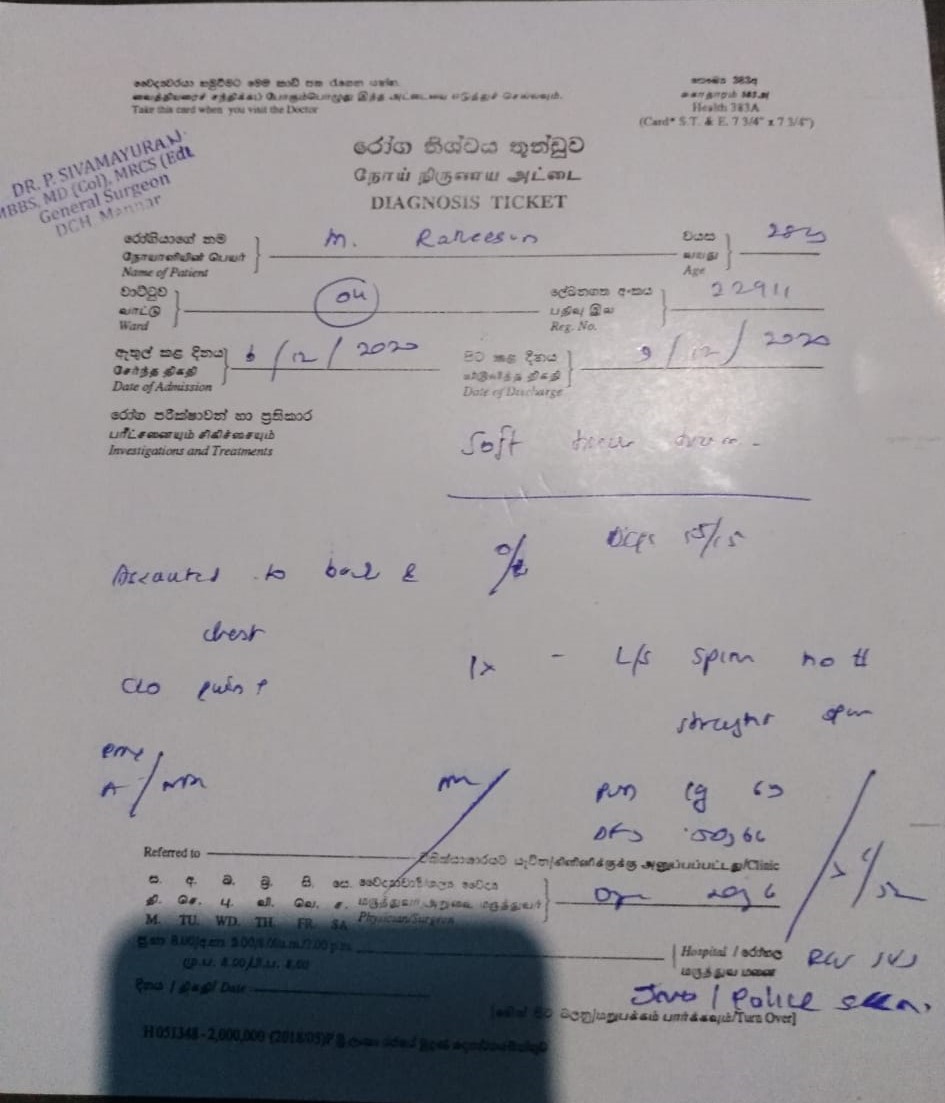 A case on cruel assault and fundamental rights violation was filed at the Mannar magistrate court in behalf of Ratheesan by Mr. Dharmaraj Vinothan, LLB, Attorney at Law, against the navy. Case number is B125/21. The first hearing was held on 25th March 2021 and the hearing was postponed to 19th August 2021.
Case information to the magistrate by police was submitted in Sinhala language while the victim is a Tamil speaking person, and the case is heard in Mannar courts also in Tamil. According to the Constitution Tamil is the administrative language in North and East areas as well as the court language.
Ratheesan stated that he hasn't yet got justice and due to his present health condition, he is unable to go to sea for more than five months and his economic status has deteriorated.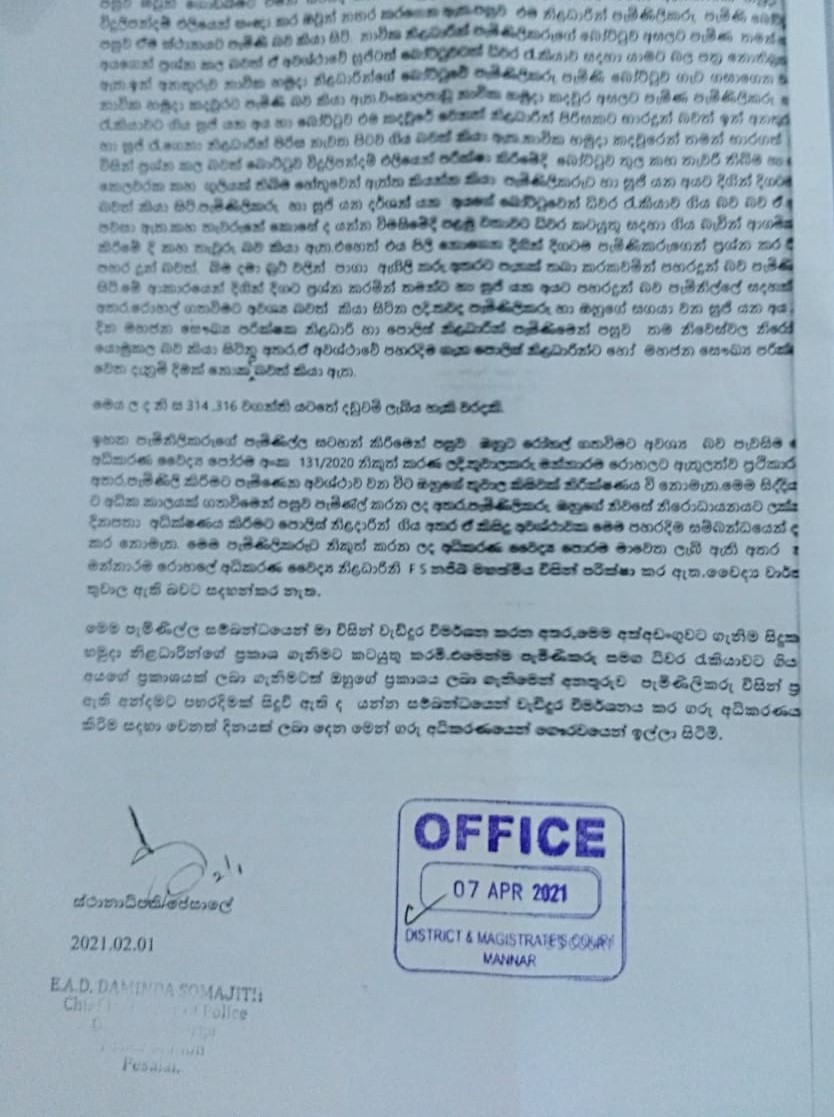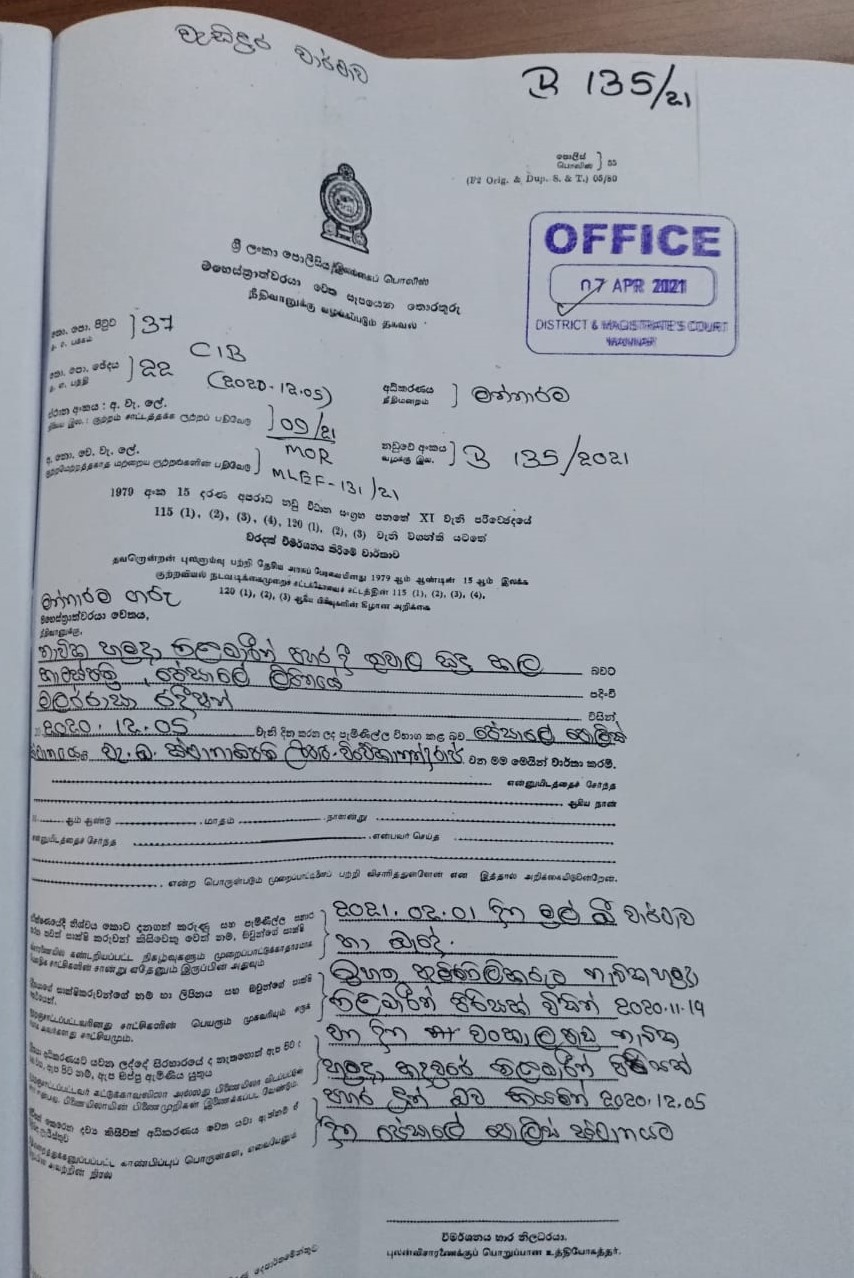 STATEMENT BY THE NATIONAL MOVEMENT FOR SOCIAL JUSTICE. 24.04.2021