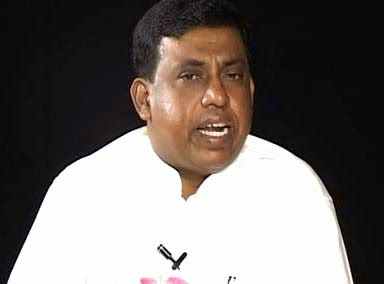 Sivagi: killings look
like a political smokescreen
[TamilNet]
The so-called revival or regrouping of the LTTE and the arrests made during the sessions in Geneva, targeting of rights activists, and now claiming the episode over by killing three alleged ex LTTE members under suspicious circumstances, looks operation carefully managed by the Sri Lankan military intelligence, blames TNA councillor and former parliamentarian M.K. Shivajilingam. The reaction comes after the Sri Lankan military claimed that it had slain three LTTE members who were re-organising the movement.
The killings seem to have taken place in Nedungkea'ni in Mulaiththeevu district. But, the dead bodies were taken to Sinhala colony Padaviya division in Anuradhapura district. No independent journalists have been allowed to witness the episode or those slain at the claimed site where the cordon and search operation had taken place, he said.
Colombo was claiming that it was about to reduce the military presence in North and East just ahead of the UN Human Rights Council session. Then, a Terrorist Investigation Division (TID) operation was clamped down on Tamils who were active in voicing for their missing family members. Search operations, threats of abductions, forced recruitment of Tamil women to SL military training and proscription of democratic organisations and activists in the Tamil diaspora were staged in an aggressive and pre-planned order, Mr Shivajilingam said.
"Now, the SL militarisation has been stepped up all over the Northern and Eastern provinces. While we are told certain stories through media, the SL military is constructing a new camp here," he told TamilNet from the coastal village of Valveddiththu'rai (VVT) Friday evening.
The SL military claimed it had slain three former LTTE members at a hideout in Nedungkea'ni in the early hours of Friday. The SL military spokesman in Colombo was telling media in Colombo that a Sri Lankan soldier was also killed in the clash. Later, he changed the version stating that the soldier was killed on a separate incident. In the SL Defence ministry write-up there was no mention at all of any SLA casualty, Tamil journalists in the North observed.
They also said that journalists of a popular Jaffna daily were told two days ago by the SL military that it had arrested one of the 'wanted' men it now claims as slain today.
Also, just one day before the alleged encounter, Colombo government claimed that 65 people detained in the past five weeks, including 10 women and children, as 'LTTE suspects'.
The dead bodies of the former LTTE members are to be inspected by Judicial Medical Officers who are not Tamils, news sources in Vavuniyaa said alluding that the SL military was trying to cover up something.
The SL military said it had identified two of the killed as Sundaralingam Kajeepan and as Selvanayagam Kajeepan.
There was no independent verification to assert what really had transpired behind the scenes of the alleged encounter in the early hours of Friday, Tamil sources in Vavuniyaa and Mullaiththeevu told TamilNet.